Director
Richard Wagner
Starring
Victor Rios, Sean Anderson, Nick Stone, Roman Reade, Simon August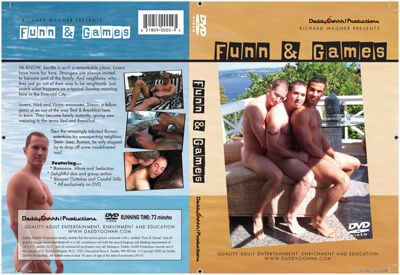 Ya know, Seattle is such a remarkable place. Lovers have more fun here. Strangers are always invited to become part of the family. And neighbors, why…they just go out of their way to be neighborly. Just watch what happens on a typical Sunday morning here in the Emerald City.
Lovers, Nick and Victor, encounter, Simon, a fellow guest at an out of the way Bed & Breakfast here in town. They become family instantly, giving new meaning to the terms Bed and Breakfast.
Then the amazingly talented Roman entertains his unsuspecting neighbor, Sean. Jeez, Roman, he only stopped by to drop off some mis-delivered mail.
Read Reviews HERE!
Where to Buy
Queer4U.com