Willie Gets A Brand New Thing
(Full review HERE)
Cast: Jeff Baron, Nick Stone, Mateo Urrutia, Luc Hugo, Justin Strife, Gabriel Comet and Simon August (all actors are nicely identified by clips in the credits, which I appreciate).
Director: Richard Wagner, Ph.D.
Writer: Toby R. Nodtobe (based on a book by Henry David Threw, and yes, you should read the movie's end credits for even more goofy puns)
Production date: ©2002
Length: 97 min. (The cover states 105 min., which is the length of feature plus the length of the behind-the-scenes featurette.)
Extras: An 8-min. behind-the-scenes featurette and a slide show with 27 movie stills.
Audio/visual quality: The visual quality is acceptable, but a little amateurish. There are ongoing issues with camera jitters, soft focus, color shifts, grain. The lighting is always adequate, but sometimes rather harsh and uneven. The camera operators eschew proctocam close-ups, instead providing teasing glimpses from just enough angles to confirm that the anal penetration is authentic. The balance of wide, medium and close-up shots is generally pleasing. The scenes include a bit of footage from Willie's Canon ZR40 digital camcorder. It's lower in quality, but this actually works really well (almost like a special effect) in support of the story. The cumshots are shown from two or three different perspectives in quick succession, which I enjoy. The locations are also reasonably classy, with quirky and interesting art.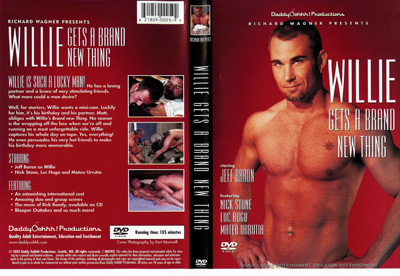 The synthesized score ranges from romantic to rhythmic. It has an atmospheric quality that reminds me of planetarium music. There's some looping, but the soundtrack flows nicely and is above average in quality. The location audio suffers from a bit from background hiss. A few directions to the performers are faintly audible. The volume shifts a little in some places, but the balance between the sex sounds and the music usually seems about right.
Disc problems: I wish the titles weren't split two-thirds of the way through the movie. The viewer can't skip or scan across the "sticky spot"—an inconvenience which makes the DVD authoring seem a bit sloppy.
First impression: Willie's brand new thing is a fine thing indeed!
Scene highlights: All Jeff Baron ("Willie") wants for his birthday is a mini-cam. Fortunately, his lover Mateo Urrutia ("Matt") and other close friends know just how to nurture him for a truly memorable day.
Mateo awakens Jeff with a kiss and a prettily wrapped present. Jeff is eager to test his birthday toy, and he encourages Mateo to do a little performance for the new camera. Mateo shyly smiles as he strips out of his tank and sexy boxer briefs (which are patterned like the Canadian flag). A few more kisses persuade Jeff that he needs to set the camera down. They alternate blowjobs, and Mateo also appears to rim Jeff before giving him anal love in doggy and missionary. The pacing is gentle, and the angles aren't terribly explicit, but Jeff's sustained, appreciative eye contact keeps the chemistry at a nice simmer. Mateo removes the condom and spurts a photogenic load (against a blue backdrop) onto Jeff's balls. Jeff doesn't achieve an orgasm himself. These two guys make a very convincing couple, however, so this pairing has a lot of allure.
Mmmm…the weight room. I can almost smell it. The establishing shot briefly lingers on the beefcake photos on the wall. I love watching men pump iron, and it's fun to check out these guys' form. The trainer, Nick Stone, does curl/press combos—my most favorite exercise for biceps and deltoids. Oops, sorry…I was getting a little distracted there. You want to know about the sex, yes? It's very good. Nick starts with a friendly little ab massage for Justin Strife, a weight room newbie who's learning tricep pull-downs. The undressing is shown (which I really like). The blowjobs are done in every possible permutation and are interspersed with kissing, nipple play and mutual masturbation. Nick gleefully grips the bar and performs mini-pull-ups to fuck Jeff's mouth. The ass play evolves from fingers to tongues to penises. Jeff reaches back and grabs Nick's hip to pull his cock in. Justin also gladly accepts a turn at Jeff's butt. Both men spurt onto Jeff's well-toned torso. Like every scene on this disc, this one has light yet good energy; no one's ever idle for long.
Returning from a run, Gabriel Comet, Luc Hugo and Simon August dive into the fun part of their workout. There's oral affection aplenty for all involved. Simon flashes a huge grin at Jeff's camera while receiving a rimjob from Gabriel and blowjob from Luc. Luc pulls his black jockstrap to the side so Gabriel can swallow the full length of his dick. For the anal, Gabriel dons a cheerful yellow condom, and Simon straddles him cowboy-style. Luc then welcomes Gabriel's cock in two positions and shoots a wild little load in several directions. Luc is the only one to climax, so this scene feels a bit weaker than the one before it. Yet it's still engaging enough to hold my attention. It helps to see Jeff circulating with his camera and stroking in enjoyment. Also, Gabriel is black, which adds a pleasing interracial aesthetic.
Mateo throws a nice little surprise party for Jeff and his friends. Gabriel, Luc, Simon, Justin and Nick gather round the cake to sing "Happy Birthday." The guys exchange affectionate hugs—I don't know if that's common in gay porn, but it's a rarity in the hetero porn that I've seen. After I watched it once, I went back and watched it again. Nick and Justin sneak off to Jeff's bed, where Luc catches them kissing and undressing. Of course Jeff finds them, too, and pretty soon we have one big happy heap of erect cocks. The scene lasts a half-hour, so I won't give a blow-by-blow. I find it sexier than most orgies I've watched, though. There's excellent balance in the activity among the participants—lots of trading around, but nothing too rushed or chaotic. Nick appears to have no trouble taking Jeff's penis down his throat. The anal givers are Nick and Justin, and the receivers are Jeff and Luc. The birthday boy Jeff, who's been saving it up all day, orgasms first. Everyone else soon follows. The movie wraps up with some sweet cuddling between Mateo and Jeff.
Screenshots: At this writing, stills from Willie Gets a Brand New Thing are available at the Daddy Oohhh! website.
Thumbs up: The DVD notes explain, "Daddy Oohhh! is replacing what has gone missing from adult entertainment: the romantic, alluring and seductive aspects of sex. All our products are being produced to appeal to a vast, underserved consumer group—women. While there is an explosion of sexually explicit material available these days, very little is tailored to female tastes. Our remedy…put the playfulness back into sex play, and do so with wit, style and humor. We assume this ethic will resonate well with all sex positive people regardless of gender."
If I'm at all representative of Daddy Oohhh!'s target audience, I must say they are well on their way to fulfilling their mission statement. My primary feelings while watching this movie are delight, amusement and arousal. I especially like the way that Jeff issues gentle commands and encouragement from behind his mini-cam. He's a great model of sexual self-awareness and confidence. His interaction with his friends also adds a clever "gonzo within a feature" twist to this lightly-plotted movie.
Incidentally, the cover photo makes Jeff's hair appear dark brown. Actually, his coloring is more-salt-than-pepper. Very sexy. I adore guys who are going silver yet still have youthful faces and hard bods. The entire cast is good-looking, in fact. Without exception, the performers' faces are handsome, and their physiques are fit (not overblown).
Thumbs down: The behind-the-scenes featurette (inaccurately labeled as "bloopers") includes the director's reassurance to the performers that he doesn't expect everyone to ejaculate in every scene. I have mixed feelings about this. Part of me is cheering, because I admire and applaud his no-pressure style. On the other hand, it is porn. I love cumshots—they're fun to watch, and they bring scenes to a tidy (or not so tidy) conclusion. It's probably more realistic that these men don't always pop, but I find myself wishing they would. Every guy in my fantasies climaxes every time.
Even to my untrained, inexpert eyes, there are problems with the way the bedroom's lit. The key and fill lights appear to be nearly equal in intensity, casting unnatural-looking multiple shadows. It doesn't help that additional ambient lighting comes from the recessed ceiling fixtures and bedside lamps. So the color temperature is uneven—the guys move in and out of orangish spots on the bed. The problem is not severe enough to ruin my enjoyment of the movie. It does give this production a less-than-polished appearance, however, and anyone who's seen more than a few dozen pornos might notice it. The lighting in the gym is better.
Themes: Gay, threeway, group, masturbation, oral, anal, deepthroating, rimming (strongly implied), interracial, kissing, foreplay, undressing, exhibitionism, voyeurism, weight lifting.
Condom use: Yes, always for anal sex. Often we get to see them going on or off, which meets my preferences.
Juice-o-meter: High.
Final analysis: Despite the middling technical qualities (could be better, could be worse), Willie Gets a Brand New Thing charms me from start to finish. The upbeat story and chemistry keep me juicy throughout. It's nice work from a newer studio; I recommend it for all of us who appreciate some romance with our hardcore gay porn.