Director
Jacob Martin
Starring
Nick Stone, Jude Marshall, Nathan York, Tyler Kane, Jake Wilder, Pohl Anders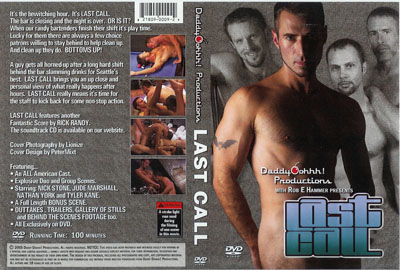 Part 1 of our Bar Trilogy
The bar is closing and the night is over. OR IS IT? When our randy bartenders finish their shift it's play time.
Lucky for them there are always a few choice patrons willing to stay behind to help clean up.
And clean up they do. BOTTOMS UP! A guy gets all horned up after a long hard shift behind the bar slamming drinks for Seattle's best. LAST CALL brings you an up close and personal view of what really happens after hours. LAST CALL really means it's time for the staff to kick back for some non-stop action.
Where to Buy
Queer4U.com