X-pressed Desires

(Full review HERE)
Cast: Nick Stone, Jeff Baron, Rick Randy, P.J. Dixon, Ian Mathis, Julian Morino and Ricky Amman in major sex roles; Tom Spade, Trey Anubis and Evan Teed in minor sex roles and bonus footage.
Director: Miles Strayhorn
Writer: Cock Robin, based on a book by Gore Vittle.
Production date: ©2003
Length: 81 min.
Extras: An 8-min. bonus scene "in the raw," 4 min. of behind-the-scenes footage and 18 min. of trailers (for all five of Daddy Oohhh!'s previously released titles).
Audio/visual quality: Much of the camerawork has a documentary feel, allowing the viewer to experience the maze of hallways and rooms right along with the performers. The setting is Basic Plumbing, a Seattle sex club sparsely furnished with oversized industrial and art objects. At odd moments, this dark and surreal environment reminds me of Wakefield Poole's Bijou, a movie which I very much like. The lighting tends to be somewhat dim—the undersaturated colors almost approach sepia tones at times. This does fit the atmosphere very well, however, and it does not prevent the action from being seen. (If what I've heard is correct, Basic Plumbing is actually kept quite a bit darker during regular operating hours.) There are scattered issues with soft focus and camera jitters, but looks-wise, this is possibly the best Daddy Oohhh! production yet.
Rick Randy, one of the starring performers, has also done a bang-up job with his original instrumentals for this movie. The pieces are variable in mood, ranging from flowing techno to ambient jazz to emotive acoustic guitar. The balance between the sex sounds and music is consistently good. Some dialog is muddy and difficult to understand, but it's relatively unimportant since spoken lines are few and far between.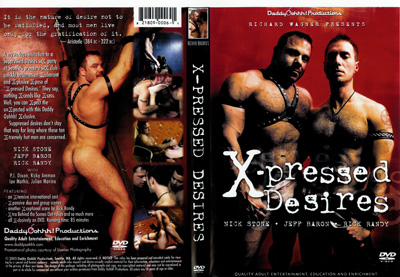 First impression: X-pressed Desires is a wish fulfilled!
Scene highlights: Sexy men all over Seattle receive an enigmatic invitation to a Suppressed Desires Party, to be held this Saturday at 11:00 p.m.
No, I wouldn't!
I mean, I couldn't!
I know I shouldn't!
but…
In the right situation,
At the right time,
With the right men?
You would, wouldn't you?
You could, couldn't you?
You should, shouldn't you?
Oh yes, I definitely think you should, especially if you don't mind letting YogaGrrl quietly watch…
"The Fireman"— P.J. Dixon, a massively muscled firefighter, leaves the locker room with a childlike air of anticipation. He peeks around corners and into private booths, and wherever he finds a man, he greets him with an inquisitive touch or an amiable kiss. P.J. eventually descends into a pit and discovers the sex swing which will unlock his secret wish. Leather cop Rick Randy arrives and engages P.J. in passionate kissing. P.J. positively feasts upon Rick's pierced penis. Rick puts his tongue and fingers to work in P.J.'s snug posterior. The heat between them draws other men into the room. Flannel-clad Tom Spade hits the cocksuckin' jackpot courtesy of P.J., Nick Stone and Ian Mathis. Rick and Nick both take turns at P.J.'s butt. The camera views are indirect, but P.J.'s radiant expression and deep-voiced moans are pretty convincing. Rick ejaculates onto P.J.'s hand and groin and then vigorously stimulates P.J.'s ass with a flesh colored probe (this footage is unambiguous). P.J. is a charming and enthusiastic bottom who not only gets hard from the toy play, but actually lets loose a little pop during the stimulation.
"The Janitor"—Fresh-faced Ian Mathis, the janitor and doorman at the club, stumbles across a straggler masturbating behind a partition. Julian Morino gives Ian a powerful, almost challenging look, and Ian responds with an amused, half-crooked grin. They stroke their attractive cocks for each other's voyeuristic pleasure and soon get down to business pleasuring each other with their mouths. Ian and Julian display great eagerness in putting their tongues in all the places tongues should go.
They caress and…wait, surely it can't be over already? Ian gives Julian tender good-bye kisses as he pulls on his jeans and then pads up the stairs to finish his work. Just his luck, he runs into Nick Stone, who's as cute as a pagan can be in his kick ass fetish gear. Nick greets Ian warmly with a kiss. Wowsers, these guys are SEXY as they swap turns wrapping their lips around each other's cock. Nick takes Ian's all the way down his throat. They bury their noses in each others' butt, too. I love Nick's good-natured chuckles when Ian turns him around to face the wall.
They kiss and…wait, surely it can't be over already? Ah no, they just needed to fetch Julian. The janitor's suppressed desire is a threeway. I can understand that; I have a few of those fantasies myself. Nick, Julian and Ian are quite excited to fulfill each others' needs. Ian gets to be the center of attention, though, pushing himself back purposefully onto Nick's cock before letting Nick do him in three positions. Ian explodes onto Nick's manly chest hair after Nick pumps from below in cowboy. Julian looks to be aiming at the same spot but cums so hard he overshoots. The best, however, is last—Nick unleashes five huge spurts and a couple smaller ones. He must have been saving up for days; otherwise, it's true what they say about the salmon in Seattle. As with the first scene, this one ends with smiles and laughter.
"One Last Look Around"—Jeff Baron and Ricky Amman hook up not long before the club closes at 5:00 a.m. They hold hands as they feel their way through the dark corridors to the locker room. Ricky gazes hungrily at Jeff, and Jeff pulls Ricky into his arms. Jeff carefully uses his lips to retrieve Ricky's hardening cock from the fly of his camouflage pants. At Jeff's invitation, Ricky affectionately rubs Jeff's close cropped hair during the blowjob. They peer into each other's eyes with quiet intensity as they switch back and forth with the oral. Ricky heartily thrusts into Jeff in two doggy-style positions (which are unfortunately inexplicit, but which give us a great opportunity to admire Ricky's toned and shapely ass).
They wrap up with a bit of romance, since Jeff's hidden longing has been finding someone who cares enough to follow him home. Now completely nude, they confirm their desire as the morning light filters into Jeff's bedroom. They quickly regain their erections, and there's an especially nice shot of Ricky rolling Jeff's behind into the air for deeper anilingus. The anal sex is unambiguous in this segment. "Fast or slow?" Ricky asks. "Fast and slow!" Jeff replies. They kiss their way to a strong orgasm from Jeff.
The behind-the-scenes featurette includes fun fluffing and assorted merriment from cast and crew alike. "The Priest" is the rough edit of a scene that had to be discarded. I'm guessing it was cut primarily due to camera focus problems and the performers falling out of character. The sex is probably worth watching at least once, though. It begins as a threeway with Evan Teed (the priest), Nick Stone and Trey Anubis. Ian Mathis and Tom Spade soon join in for an oral orgy. Ian, Trey and Nick all climax; Trey's orgasm arrives forcefully with primal vocalizations and full body shudders.
Screenshots: At this writing, soft-core images from the set of X-pressed Desires are available at the Daddy Oohhh! website. For the most part, they accurately portray the look of the movie and its performers (except, alas, there is no peeing by P.J.).
Thumbs up: The men are hot. There's not a dud in the bunch, plus there's enough variety in the good looks and the good personalities to give this movie broad appeal. It's difficult to believe that this is the first-ever production for so many of these guys. It's the debut of P.J. Dixon (who has now gone on to work for Titan Media, as well), Ian Mathis, Julian Morino and Ricky Amman. It's also the first partnered sex scene for Rick Randy, who'd done one solo scene before (and who's also followed up with one for Titan). Personally, I could eat every one of these men up. As an added bonus, for those who like interracial action, Julian is Latin and Ricky A. is Middle Eastern.
The sex is way hot, too. I appreciate that the action is not overedited. The transitions between positions are often included, which I particularly enjoy. This movie lets me catch vicarious whiffs of what a gay sex club environment might be like (on an amazing, idealized night, anyhow). It's not a world which is easily accessible to most straight folks, or even some gay folks. It's a genuine treat for me.
Thumbs down: I anticipate some viewers will be disappointed by the limited number of orgasms in the first scene (even though the two main characters do climax) and also by the inexplicit angles during that scene's anal sex. If you want my opinion, I think it's commendable that no one thrust a camera into P.J.'s space while he was concentrating on accommodating those hard, happy cocks. He's all aglow with the sheer thrill of it, and that's good enough for me.
My own criticisms of this disc are pretty minor and technical. The chapter stops, for example, are not always intuitive. It'd make sense to have one at the start of the first scene (especially since the opening credits are rather substantial) and also one at the start of the closing credits (instead of one at the end of the closing credits). With respect to the A/V quality, a little more light in some places would be good, as would more clarity in some on-location sound. This production is quite good on the whole, however, especially for a studio with only a half dozen releases.
Themes: Gay, threeway, group, masturbation, oral, deepthroating, anal, rimming, toys (sex swing, dildo, cock rings), kissing, role play, fetishwear, glory holes, voyeurism, interracial.
Condom use: Yes, condom use is consistent for anal sex. It's well-integrated into the plot; the men receive their rubbers as they enter the club and can be seen putting them on and taking them off.
Juice-o-meter: High. I'm lucky I didn't hurt myself during Ian and Nick's scene. It needs an advisory sticker or something; I'm not sure I've ever cum like that in under two minutes before.
Final analysis: Once again, I am astonished by the way each new Daddy Oohhh! movie goes to a different, creative place. It's tough to categorize this one. The majority of the cast consists of brand-spanking-new amateurs, yet this is definitely a professional production. It's not overly glossy, not overly gritty, just someplace very nice between fantasy and reality, where all the best desires can be found. Whatever it is, I love it!