Listen to it HERE!
Hey sex fans,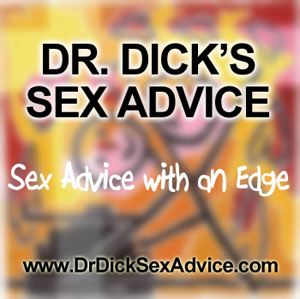 My very first podcast is ready to rock and roll your world! SWEET
Frank needs bigger tits
Daniel #1 has big meat; does he need to find a bigger pussy?
Daniel #2 is about to chow down on some tasty butt-hole.
(What's up with all the friggin' Daniels?
George is not sure about his girlfriend's cookies
And finally
Alicia gives her queer brother a Valentine
BE THERE OR BE SQUARE!
Check out The Lick-A-Dee-Split Connection. That's Dr Dick's toll free podcast voicemail HOTLINE. Don't worry people; no one will personally answer the phone. Your message goes directly to voicemail.
Got a question or a comment? Wanna rant or rave? Or maybe you'd just like to talk dirty for a minute or two. Why not get it off your chest! Give Dr Dick a call at (866) 422-5680.
DON'T BE SHY, LET IT FLY!
Look for my podcasts on iTunes.  You'll find me in the podcast section, obviously. Just search for Dr Dick Sex Advice. And don't forget to subscribe.  I wouldn't want you to miss even one episode.