November 12, 2005 · Posted in
Actors
,
Bar Trilogy
,
Bo Knight
,
Directors
,
Jacob Martin
,
New Movie Release
,
Press Release
,
Robert Black
,
Troy Gamaun
,
Ty Hudson
·
Comment
After Hours
Director
Jacob Martin
Starring
Sebastian Jaymz, Johnny Law, Bo Knight, Troy Gamaun, Robert Black, Tyger Hudson, Tony Rico, Slater Reed, Slab Granite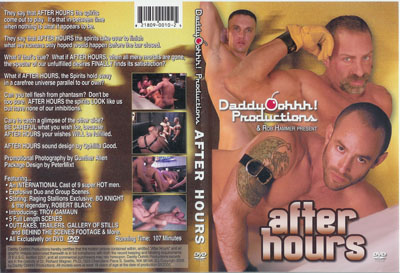 Part 2 of our Bar Trilogy
They say that AFTER HOURS the spirits come out to play. It's that in-between time when nothing is what it appears to be.
They say that AFTER HOURS the spirits take over to finish what we humans only hoped would happen before the bar closed.
What if that's true? What if AFTER HOURS, when all mere mortals are gone, the specter of our unfulfilled desires FINALLY finds its satisfaction?
What if AFTER HOURS, the Spirits hold sway in a carefree universe parallel to our own?
Can you tell flesh from phantasm? Don't be too sure. AFTER HOURS the spirits LOOK like us but have none of our inhibitions.
Care to catch a glimpse of the other side? BE CAREFUL what you wish for, because AFTER HOURS your wishes WILL be fulfilled.
Where to Buy
Queer4U.com
December 12, 2004 · Posted in
Actors
,
Directors
,
Jacob Martin
,
Jude Marshall
,
Julian Morino
,
Manuel Dante
,
New Movie Release
,
PJ Dixon
,
Press Release
,
Rick Randy
·
Comment
Men Hard@Work

Director
Jacob Martin
Starring
Rick Randy, PJ Dixon, Julian Morino, Evan Teed, Trey Anubis, Jude Marshall, Manuel Dante, Conner Larkin, Jordan West, Calvin Seaman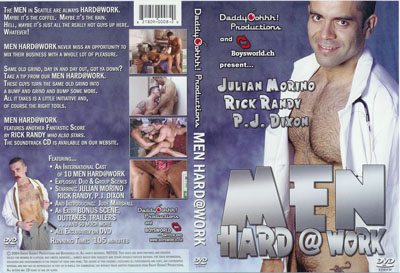 The MEN in Seattle are always HARD@WORK. Maybe it's the coffee. Maybe it's the rain. Hell, maybe it's just all the really hot guys up here. Whatever!
MEN HARD@WORK never miss an opportunity to mix their business with a whole lot of pleasure.
Same old grind, day in and day out, got ya down? Take a tip from our MEN HARD@WORK. These guys turn the same old grind into a bump and grind and bump some more.
Where to Buy
Queer4U.com
X-pressed Desires

(Full review HERE)
Cast: Nick Stone, Jeff Baron, Rick Randy, P.J. Dixon, Ian Mathis, Julian Morino and Ricky Amman in major sex roles; Tom Spade, Trey Anubis and Evan Teed in minor sex roles and bonus footage.
Director: Miles Strayhorn
Writer: Cock Robin, based on a book by Gore Vittle.
Production date: ©2003
Length: 81 min.
Extras: An 8-min. bonus scene "in the raw," 4 min. of behind-the-scenes footage and 18 min. of trailers (for all five of Daddy Oohhh!'s previously released titles).
Audio/visual quality: Much of the camerawork has a documentary feel, allowing the viewer to experience the maze of hallways and rooms right along with the performers. The setting is Basic Plumbing, a Seattle sex club sparsely furnished with oversized industrial and art objects. At odd moments, this dark and surreal environment reminds me of Wakefield Poole's Bijou, a movie which I very much like. The lighting tends to be somewhat dim—the undersaturated colors almost approach sepia tones at times. This does fit the atmosphere very well, however, and it does not prevent the action from being seen. (If what I've heard is correct, Basic Plumbing is actually kept quite a bit darker during regular operating hours.) There are scattered issues with soft focus and camera jitters, but looks-wise, this is possibly the best Daddy Oohhh! production yet.
Rick Randy, one of the starring performers, has also done a bang-up job with his original instrumentals for this movie. The pieces are variable in mood, ranging from flowing techno to ambient jazz to emotive acoustic guitar. The balance between the sex sounds and music is consistently good. Some dialog is muddy and difficult to understand, but it's relatively unimportant since spoken lines are few and far between.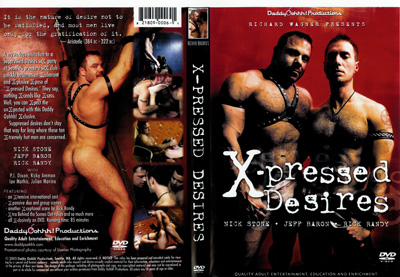 First impression: X-pressed Desires is a wish fulfilled!
Scene highlights: Sexy men all over Seattle receive an enigmatic invitation to a Suppressed Desires Party, to be held this Saturday at 11:00 p.m.
No, I wouldn't!
I mean, I couldn't!
I know I shouldn't!
but…
In the right situation,
At the right time,
With the right men?
You would, wouldn't you?
You could, couldn't you?
You should, shouldn't you?
Oh yes, I definitely think you should, especially if you don't mind letting YogaGrrl quietly watch…
"The Fireman"— P.J. Dixon, a massively muscled firefighter, leaves the locker room with a childlike air of anticipation. He peeks around corners and into private booths, and wherever he finds a man, he greets him with an inquisitive touch or an amiable kiss. P.J. eventually descends into a pit and discovers the sex swing which will unlock his secret wish. Leather cop Rick Randy arrives and engages P.J. in passionate kissing. P.J. positively feasts upon Rick's pierced penis. Rick puts his tongue and fingers to work in P.J.'s snug posterior. The heat between them draws other men into the room. Flannel-clad Tom Spade hits the cocksuckin' jackpot courtesy of P.J., Nick Stone and Ian Mathis. Rick and Nick both take turns at P.J.'s butt. The camera views are indirect, but P.J.'s radiant expression and deep-voiced moans are pretty convincing. Rick ejaculates onto P.J.'s hand and groin and then vigorously stimulates P.J.'s ass with a flesh colored probe (this footage is unambiguous). P.J. is a charming and enthusiastic bottom who not only gets hard from the toy play, but actually lets loose a little pop during the stimulation.
"The Janitor"—Fresh-faced Ian Mathis, the janitor and doorman at the club, stumbles across a straggler masturbating behind a partition. Julian Morino gives Ian a powerful, almost challenging look, and Ian responds with an amused, half-crooked grin. They stroke their attractive cocks for each other's voyeuristic pleasure and soon get down to business pleasuring each other with their mouths. Ian and Julian display great eagerness in putting their tongues in all the places tongues should go.
They caress and…wait, surely it can't be over already? Ian gives Julian tender good-bye kisses as he pulls on his jeans and then pads up the stairs to finish his work. Just his luck, he runs into Nick Stone, who's as cute as a pagan can be in his kick ass fetish gear. Nick greets Ian warmly with a kiss. Wowsers, these guys are SEXY as they swap turns wrapping their lips around each other's cock. Nick takes Ian's all the way down his throat. They bury their noses in each others' butt, too. I love Nick's good-natured chuckles when Ian turns him around to face the wall.
They kiss and…wait, surely it can't be over already? Ah no, they just needed to fetch Julian. The janitor's suppressed desire is a threeway. I can understand that; I have a few of those fantasies myself. Nick, Julian and Ian are quite excited to fulfill each others' needs. Ian gets to be the center of attention, though, pushing himself back purposefully onto Nick's cock before letting Nick do him in three positions. Ian explodes onto Nick's manly chest hair after Nick pumps from below in cowboy. Julian looks to be aiming at the same spot but cums so hard he overshoots. The best, however, is last—Nick unleashes five huge spurts and a couple smaller ones. He must have been saving up for days; otherwise, it's true what they say about the salmon in Seattle. As with the first scene, this one ends with smiles and laughter.
"One Last Look Around"—Jeff Baron and Ricky Amman hook up not long before the club closes at 5:00 a.m. They hold hands as they feel their way through the dark corridors to the locker room. Ricky gazes hungrily at Jeff, and Jeff pulls Ricky into his arms. Jeff carefully uses his lips to retrieve Ricky's hardening cock from the fly of his camouflage pants. At Jeff's invitation, Ricky affectionately rubs Jeff's close cropped hair during the blowjob. They peer into each other's eyes with quiet intensity as they switch back and forth with the oral. Ricky heartily thrusts into Jeff in two doggy-style positions (which are unfortunately inexplicit, but which give us a great opportunity to admire Ricky's toned and shapely ass).
They wrap up with a bit of romance, since Jeff's hidden longing has been finding someone who cares enough to follow him home. Now completely nude, they confirm their desire as the morning light filters into Jeff's bedroom. They quickly regain their erections, and there's an especially nice shot of Ricky rolling Jeff's behind into the air for deeper anilingus. The anal sex is unambiguous in this segment. "Fast or slow?" Ricky asks. "Fast and slow!" Jeff replies. They kiss their way to a strong orgasm from Jeff.
The behind-the-scenes featurette includes fun fluffing and assorted merriment from cast and crew alike. "The Priest" is the rough edit of a scene that had to be discarded. I'm guessing it was cut primarily due to camera focus problems and the performers falling out of character. The sex is probably worth watching at least once, though. It begins as a threeway with Evan Teed (the priest), Nick Stone and Trey Anubis. Ian Mathis and Tom Spade soon join in for an oral orgy. Ian, Trey and Nick all climax; Trey's orgasm arrives forcefully with primal vocalizations and full body shudders.
Screenshots: At this writing, soft-core images from the set of X-pressed Desires are available at the Daddy Oohhh! website. For the most part, they accurately portray the look of the movie and its performers (except, alas, there is no peeing by P.J.).
Thumbs up: The men are hot. There's not a dud in the bunch, plus there's enough variety in the good looks and the good personalities to give this movie broad appeal. It's difficult to believe that this is the first-ever production for so many of these guys. It's the debut of P.J. Dixon (who has now gone on to work for Titan Media, as well), Ian Mathis, Julian Morino and Ricky Amman. It's also the first partnered sex scene for Rick Randy, who'd done one solo scene before (and who's also followed up with one for Titan). Personally, I could eat every one of these men up. As an added bonus, for those who like interracial action, Julian is Latin and Ricky A. is Middle Eastern.
The sex is way hot, too. I appreciate that the action is not overedited. The transitions between positions are often included, which I particularly enjoy. This movie lets me catch vicarious whiffs of what a gay sex club environment might be like (on an amazing, idealized night, anyhow). It's not a world which is easily accessible to most straight folks, or even some gay folks. It's a genuine treat for me.
Thumbs down: I anticipate some viewers will be disappointed by the limited number of orgasms in the first scene (even though the two main characters do climax) and also by the inexplicit angles during that scene's anal sex. If you want my opinion, I think it's commendable that no one thrust a camera into P.J.'s space while he was concentrating on accommodating those hard, happy cocks. He's all aglow with the sheer thrill of it, and that's good enough for me.
My own criticisms of this disc are pretty minor and technical. The chapter stops, for example, are not always intuitive. It'd make sense to have one at the start of the first scene (especially since the opening credits are rather substantial) and also one at the start of the closing credits (instead of one at the end of the closing credits). With respect to the A/V quality, a little more light in some places would be good, as would more clarity in some on-location sound. This production is quite good on the whole, however, especially for a studio with only a half dozen releases.
Themes: Gay, threeway, group, masturbation, oral, deepthroating, anal, rimming, toys (sex swing, dildo, cock rings), kissing, role play, fetishwear, glory holes, voyeurism, interracial.
Condom use: Yes, condom use is consistent for anal sex. It's well-integrated into the plot; the men receive their rubbers as they enter the club and can be seen putting them on and taking them off.
Juice-o-meter: High. I'm lucky I didn't hurt myself during Ian and Nick's scene. It needs an advisory sticker or something; I'm not sure I've ever cum like that in under two minutes before.
Final analysis: Once again, I am astonished by the way each new Daddy Oohhh! movie goes to a different, creative place. It's tough to categorize this one. The majority of the cast consists of brand-spanking-new amateurs, yet this is definitely a professional production. It's not overly glossy, not overly gritty, just someplace very nice between fantasy and reality, where all the best desires can be found. Whatever it is, I love it!
September 3, 2003 · Posted in
Actors
,
Bar Trilogy
,
Directors
,
Jacob Martin
,
Jake Wilder
,
Jude Marshall
,
Nathan York
,
New Movie Release
,
Nick Stone
,
Pohl Anders
,
Press Release
,
Tyler Kane
·
Comment
Director
Jacob Martin
Starring
Nick Stone, Jude Marshall, Nathan York, Tyler Kane, Jake Wilder, Pohl Anders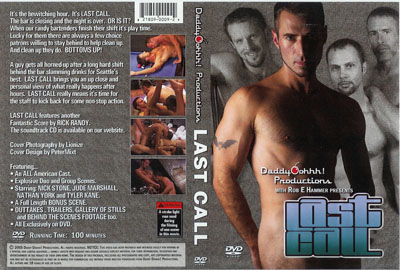 Part 1 of our Bar Trilogy
The bar is closing and the night is over. OR IS IT? When our randy bartenders finish their shift it's play time.
Lucky for them there are always a few choice patrons willing to stay behind to help clean up.
And clean up they do. BOTTOMS UP! A guy gets all horned up after a long hard shift behind the bar slamming drinks for Seattle's best. LAST CALL brings you an up close and personal view of what really happens after hours. LAST CALL really means it's time for the staff to kick back for some non-stop action.
Where to Buy
Queer4U.com
X-pressed Desires

Director
Myles Strayhorn
Starring
Nick Stone, Jeff Baron, Rick Randy, PJ Dixon, Ian Mathis, Julian Morino, Ricky Amman, Evan Teed, Tom Spade, Trey Anubis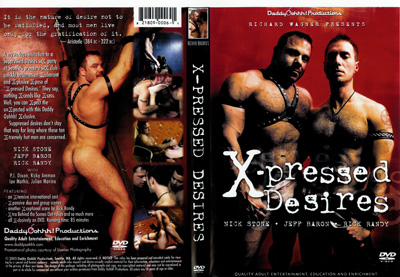 Suppressed desires don't stay that way for long where these ten X-tremely hot men are concerned. A mysterious invitation to a private seX party at Seattle's premiere seX club quickly becomes an X-uberant and X-plosive X-pose of "X-PRESSED DESIRES." They say, nothing X-ceeds like X-cess. Well, you can X-pect the un X-pected with this Daddy Oohhh! X-clusive.
Read reviews HERE!
Where to Buy
Queer4U.com
Willie Gets A Brand New Thing

(Full review HERE)
Richard Wagner of Daddy Oohhh Productions told me months ago that when he shot his next DVD that he wanted me at his side. The phone call came and he told me that the cast had been chosen for his latest DVD, the cameramen were ready everyone was meeting on the 14th of March. I told him that I'd be there. It meant cutting my trip to California short, but when your friends need you, you're there, right?

I rushed to get my hair cut (it's a bi-monthly thing), and after I walked to Richard's. He wasn't there, so on my way back home, I stopped at my favorite Vietnamese sandwich shop, grabbed a sandwich and was on my way home when I got stopped in the cross walk and just happened to look up and there was a convoy of two cars packed with Richard and his entire cast. They signaled for me to meet them up the street and I hopped in somebody's car and we drove back to Richard's place. That's how my weekend of porn shooting started.

Friday night is the night where we all met each other. Richard had plenty of food on hand and the cocktails just flowed. I had a ball. All the guys were wonderful. The newbies were a little nervous and that's normal. The pro's (either they'd done it before or they were in the business somehow) were confident. Richard was busy talking out the scenes he wanted to see. I suggested this and that and mostly helped Alex, the photographer do his glamour shots with each performer. It was fun and a great way to see what each person was like. And I have to admit that there was something magical that happened to the performers who you could tell really were comfortable in this type of sexually charged atmosphere and the ones who weren't. Guess what? The ones making the most fuss about being photographed turned out to be the shyest on the set. I instantly fell in love with some of the cast like the delightful man with the spiked hair who said that his mother even knew he was here and why. I liked that. I had a nice chat with the Associate Editor from the Seattle Weekly (I thought he was sexy), I adored the photographer. He's just as cute as a button. He started out a little shy with posing the models, but before long it was "yeah, pull out that….". I think the "Leather man"; Mr. Rick Randy is a genius. And I love a man with great piercing. He's on his way to Titan Media you know. Let's see, Nick Stone was there (see my Husband of the month). There was this delightful little bottom that was just burning up to be fucked by someone. You could see it all in his eyes. Jeff from "Willie's Brand New Thing" was there, he and the guy who apparently was going to be in a scene with him. It was hard to talk to either of them because mostly they were all over each other. A Texan was there whom I liked. He had a nice cock and he appeared honest when he said that he almost didn't get on the plane. The cameramen all were great. We talked about the industry and the things that you don't see anymore and what a shame it is. The cameraman from Portland? That little film school one? Child he bought to the set this aloof, sexiness and wood, wood, wood. And he said that he has no interest in being in front of the camera. Child if my buddies over at Raging Stallions saw what I saw, they'd fly to Seattle with a contract and a pen in hand. Okay, so I leave at a respectful hour. Richard said that everyone should be ready for a 9am curtain call at Basic Plumbing. This really great sex club here in town. What did I do? I get home with this great buzz and logged into my favorite site on line where my ad is running. There was this cute Boy (24 years old) on line and I contacted him, he contacted me and before you know it, I was in the shower and knocking on his door. What a slut.

Saturday: I didn't' get home until 7am. I just lay on the bed. I was worn out. I should've worn shades because I pulled into the club on time, but I was looking like something the cat dragged in. Pretty soon we had to unload the equipment, i.e., lights, cameras, monitors, costumes, etc. While one scene was being shot, either the others were sitting around talking or watching the scene. I was close to Richard, whispering in his ear about this or that or setting up a scene or dressing the set. When the cameras rolled, it was live folks! Some scenes took longer than others and I think the expectations of the performers were a little high. From behind the camera I thought that everyone was great. The first scene involved a sling and the "fireman" was great, the Rick Randy was hot and Nick Stone was just wonderful fluffing. After the caterer delivered the food and I ate, this old man was exhausted. The club only let us has it until 3pm, but John and Tom (from Basic Plumbing) were so nice. We packed everything up and I dragged my ass home and took a nap.
Sunday: I got to Richard's house around 9am. He saw me walking down the street and filled me on how things were developing. Some of the cast left, there was a family emergency for another member and everyone had issues or questions. Richard drove, I listened. We got downtown to the hotel and picked the remaining cast up and headed back to Richard's. Everyone was a bit different from the day before. I think some of the cast had expectations that didn't quite come true. Performing in front of God, a full crew and having sex for a video is hard, hard work. I stayed and chatted with the cast while a scene was being filmed upstairs. It was me, "the Priest", "the Leather man", "the Fireman", Nick Stone, the behind the scenes cameraman and the guy whose mother knew where he was. I respected him and I don't know why. He seemed so sincere. Honest and for real. The kind of guy that has nothing hidden and the kind any mother would love. And he gave his all to his scene. I was shocked. I would love to see him in something else. I thought he was great. One scene was shot upstairs which I didn't see actually, but I heard. The next scene was shot in Richard's living room and the intensity was amazing. Everyone was tired, but they gave their all to this final scene. The hair on my arm stood on end as I sat and watched what unfolded in front of my eyes. I chatted with Nick Stone and Richard for a while as we watched the remaining cast do their thing.

What an interesting opportunity. It's really fascinating all of the hard work that goes into the videos that we see or rent at our local video stores. And so much is edited and ends up on the cutting room floor. Could I do it? No. Am I glad I was there, sure. It was fun. So, when the DVD comes out, you know where to get the review. I'll be sure to give you all the dirt at that time.

And on to the Review


Willie Gets A Brand New Thing
Starring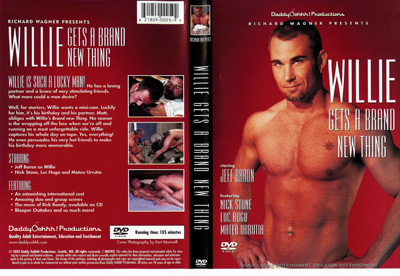 Jeff Barron
Nick Stone
Luc Hugo
Mateo Urrutia
Justin Strife
Gabriel Comet
Simon August

The DVD opens with Jeff Barron lying on a beautiful bed. He's really such a hunk of a man. Is lover Mateo Urrutia approaches in these really great Canadian boxers and gives Jeff a gift. It's a camera. It's funny seeing Jeff this way and seeing him on set of Wagner's latest video. Jeff seems really quiet and I cornered him in the kitchen during the shoot and we had a nice little talk about how it makes him feel to be seen this way and to be seen with his ass all up in the air. It was really difficult to talk to him because he and his new co-star were all over each other and that was cool. Let it not be said that I stood in the way of chemistry. Anyway, Jeff and Mateo are on this really beautiful bed. Rumor has it that the owners of the house where the video was shot went out and bought new linen for the bed. New linen just for the shoot. I hear them. Hell, if you filming in my house, I want my shit to be right too. The two lovers try the camera out. Mateo is a cute, boyish young man with just enough of that youthful baby fat to be sexy. He gets out of his boxers and they kiss. Jeff sets the camera down and they start making out. Cocks get stroked, they kiss some more and the scene is very romantic.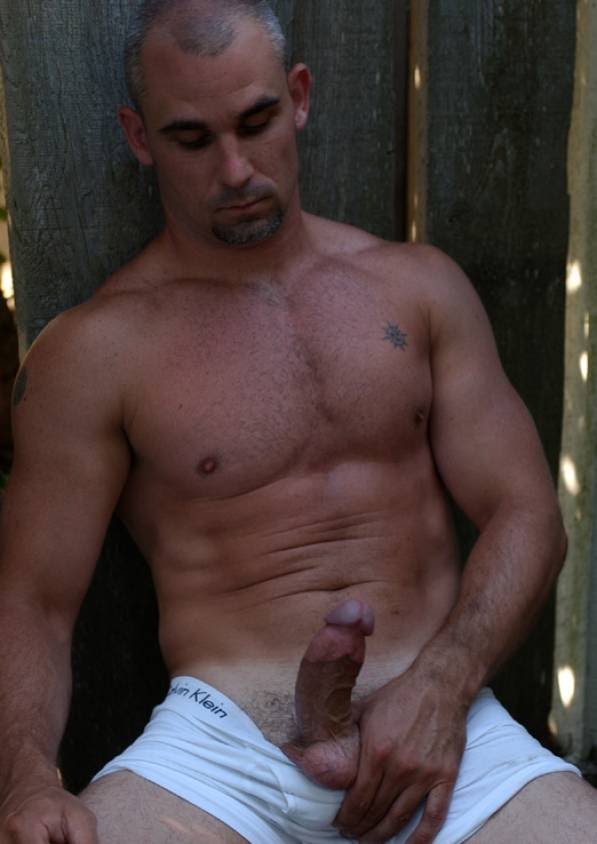 This is a Daddy Oohhh production so you know it's going to be filmed lush and very sensual. Other reviewers have a problem with Wagner and the way he takes his time with the little things like foreplay and sensuality, but I think these things are important. But that's just me. Jeff goes for Mateo's cock and it's a nice cock too. There is this nice shot; shot from Mateo's back, which I thought, was nice. Mateo sucks Jeff who was blessed with a beautiful ass. If I had an ass like that (I've been cursed with this little Diana Ross "touch me in the morning, then just walk away" ass), but if I had back like that, I'd go on the road and tour. No joke. Jeff's ass is fuzzy, not hairy too and that's nice. It lets you know that you're fucking a man. Know what I mean? Got to love that.
The room is great too because of the great paintings on the wall and the paint on the walls. I pay attention to shit like that. Jeff lies on his back and Mateo sucks him. Wagner didn't put make-up on the blemishes and human flaws. I like that. A nice real touch. Mateo at one point, is either sucking Jeff's balls or doing something down in Jeff's valley, but you can't really tell because we're not allowed to see it. And that's a shame. There's nothing, in my book, like a good ball sack lapping. Jeff is on all fours, a condom is produced and Mateo goes for it. There's a little trouble at first so he finger's Jeff's ass a bit. I do that too. With some luck and some pushing, bingo, we get contact. It's nice when Jeff gets on his knees with Mateo behind him. The two of them have great coloring. Back on his back, Mateo is fucking Jeff and Jeff is staring into his face. Hot. Jeff even says, "give it to me" and that was hot. So they were fucking and I sat in front of my DVD player worried about the sheets. Silly me. I really need to get out more. Jeff and Mateo kiss and it's so gentle. A kiss is the best part. I've learned form experience that if the kiss is bad, get your hats, the rest of it is going to be fucked up. So demand that a man is a good kisser, children. Save yourselves the headache. The two stroke some more and Mateo shoots all over the beautiful linen. There is a great shot of Mateo's load on the inside of Jeff's thigh. Beautiful. Jeff strokes, but no cum shot. Hmmmm? They embrace and that's the first scene.

Next we're in a gym. Enter Nick Stone, that little sexual dynamo and Justin Strife, his work out partner, Gabriel
Comet, Simon August and Luc Hugo. Hugo is pretty. All me. He's that type that will have you working sixteen hours a day just so that he'll have everything that he says he need. You know the type. I run from that type these days. Give me an old fashioned, hard working Joe Average. At forty, I don't want to feel that good, know what I mean? But, don't get me wrong, I'd still do that type, but these days I keep some bobbi pins in my hair and pray. So everyone is exercising, pulling this, lifting that and Nick is there to help. He's like the trainer. In walks Jeff Barron and he shows off the camera he got from his lover. It's his birthday, you know. You know what comes next? He tapes the work. Everyone leaves except Justin Strife, Nick and Jeff. Jeff is this thin, retro looking guy with this great stomach with the pretty birthmark on it. Nick stands in front of him and goes for his cock. Suddenly Strife's shirt is off and the banter between the two of them is cute. Some people shy away form "porn monologue", but I like it.

Nick gets on his knees and plants little kisses on Strife. Nice. Meanwhile Jeff is filming. Nick is hard and stroking while he sucks. That's the markings of a great cocksucker. Amateurs take note. Nick is great and he has such a great cock. You should see it in person. And the Strife's cock is pretty impressive too. There's a nice shot of Nick sucking Strife's nipples. Jeff stands and kneels to get the best shot form his hand held camera. You know before long what he's seeing turns him on. Nick and Strife get naked and Jeff's turns in a Director telling the two what to do. At one point he says, "why don't you share that with the birthday boy"? He meant that. Mr. Barron is quite a cocksucker himself, don't let him fool y'all. They both suck Nick and Nick is hard as can be. They switch and Nick takes them both. Nice. Nick gets behind Jeff and plays with his ass. Thank God. Jeff gobbles Nick again while Strife watches. There is a mirror behind them and it's great. I love a mirror, that's why I have two very large ones placed just so in my bedroom. They work. Strife is fumbling around with Jeff's ass, which frustrated me. I was like "slap that ass", but like I said, I need to get out more. Jeff even announces, " get down there and play with my ass". Does he? No. Once again sending children in to do a grown up's job. How I wanted to slap Strife. And knowing the real man behind Jeff Barron, he would want you to slap his ass and pull his hair. He may not admit it, but you have to get up pretty early in the morning to fool an old girl like me. They switch and Nick rims Jeff while Strife sucks Jeff. Look at Stone; he's in his zone. We talked about him and that look on his face when he's in his zone. Jeff is on his back and Strife is jacking. Jeff licks Strife's balls. Nick feed Jeff his cock while Strife is fucking Jeff. They both stand over Jeff and stroke. Strife cums first then Nick cums while cupping his balls. Jeff doesn't cum though. Hmmmm?


Luc Hugo and Gabriel Comet (whose a very handsome Brother, by the way) are in the gym with Simon August. Jeff is there filming in a jock which only accentuates his beautiful ass. August stands and Hugo and Comet suck him off. Comet, Brother that he is, takes charge and starts rimming August. Jeff tells Comet to let us see his big cock. And Comets turns and shows us. I thought that was nice. Sure Comet has a nice cock, but it's his bubble ass that I liked. Where was I when they were passing those out? I'm going to have to take that up with the Lord when I see him. Hugo is uncut and that's always nice to see. He sucks them both. I think he's so sexy. Great shot of the camera showing us what's on Jeff's camera. Nice touch Mr. Director. Jeff starts to stroke as he shoots. Gabe is on his back at one point, August lubes him up and August sits on it. Jeff is right there with his camera. They change condoms and Hugo rides Comet. It's so good to see a Brother on video. I just wish that he would've sliced and diced the girls, but he was totally Coolsville. I'm the same way myself. Great shot of Hugo laying back and stroking. Hugo shoots first and that's it. End of scene.
Next Mateo is seen setting a table. He lights candles and everyone arrives to sing "Happy Birthday" to the birthday boy, Jeff. It's cute.
Nick Stone and Strife are making out on the bed. They kiss and just when you think that Stone is going for the cock Hugo joins them. There's a great shot of Stone being semi-hard in his underwear. Stone pulls out Hugo's cock and starts sucking. Once everyone is naked Jeff arrives with his camera and films it all. The lighting is amazing. Jeff asks could he join them. What they gonna say, "no"? I have a hard time with group scenes on video. My old eyes can't deal with splitting my attention that way. But pay attention to Jeff's head techniques and his ass. Also watch for how Stone just seems to fit no matter where he is. There's a great daisy chain and a beautiful bed. I thought that Jeff and Nick far out performed the two others. And it's funny, but it seemed that Jeff is his most erect when he's in a submissive position. Wonder why? Hugo's sixty-nine with Nick is hot. Before long Nick has a condom on and he fucks Hugo while Strife is stroking. Nick fucks Jeff and they occupy the scene. Jeff shoots for the first time since the beginning of the DVD and it's impressive. I guess it was worth the wait. Nick shoots what looks like a _ cup followed by Strife who shoots all over Jeff's chest. Hugo follows up with his money shot.

At the end Mateo is in bed when Jeff enters the room. Mateo tells him to put the camera down and come to bed. They kiss, say "good night" and Jeff finds his spot in a really loving spoon and it's fade to black.
Nice.
Funn & Games

(Full review HERE)
Daddy Oohhh! Productions www.daddyoohhh.com
Director:  Richard Wagner
Starring:
Nick Stone
Victor Rios
Simon August
Sean Anderson
Roman Reade
My friend Dan  told me a while ago that I should meet Richard Wagner because he was carrying the DVD "BodyRocks" in his DVD store.  I was like, "yeah, I'll give him a call".  And never did.  Daddy Ohh Productions is a Seattle based studio using Seattle performers.  It sounded interesting, but sometimes I get bombarded with porn where I don't even want to see a scrotum not to mention the humping and pumping I have to see monthly just to come up with a review.  I'm not complaining, I love my job, but even welders get tired sometimes.  Well, time passed and I got an email recently from my friend Andy.  In it he copied Richard Wagner and then the next day I received an email from Richard himself.  He said that he was interested in meeting me too and to give him a call.  I did.  Child, it was the hottest day of the year and I had taken the day off to have my teeth cleaned, my favorite thing on earth, so I made a date to drop by his villa.
When I got there, I was sweating like a pig and probably looking just as greasy in the heat, and he answered the door.  In front of me stood a very handsome, older gentlemen (I was shocked).  He invited me in and gave me a glass of water and we sat and talked porn for the next hour or so.    Richard is easy to talk to, his villa was comfortable, and it turned out that he and I share the same views on porn and how it could be.  Later on he took me upstairs and showed the rough, unedited version of his latest project and we shared feed back on angles, scenes, who was hot, what worked, etc.  Great afternoon, great guy.  When I got home, in my hot little hands were three DVDs that Richard thought I'd be interested in.  The other two will follow, but this time, I'm going to talk to you about "Funn and Games".  It goes a little something like this:
Nick Stone and Victor Rios open this visually stunning DVD.  I take it that they are lovers and they are letting us take a peek on them getting busy between the sheets.   They open on this lovely bed with this really great comforter. The thing that stood out for me was there was this mirror behind the bed and you can see their refection at all times.  This is going to be very important later, so pay attention.  Victor is just out and out fine.  Fine in that Latin, brown, uncut kinda way.  Y'all know what I mean.  And the child gives you booty for days.  Nick?  Let me tell you about Nick.  Nick is this little hairy, sexual dynamo that you just can't keep your eyes off of.  He's not a gym bunny, but he's not out of shape either.  He just gives you that MAN thang.  Back in the day, I had to have that smooth, lean Super Model, high maintenance type that makes you so worried that your hair is out of place, because theirs is perfect.  You know the ones, it's all about them?  Y'all with me? Today, just give me a regular man.  And hair is masculine to me.  Anyway, Nick is hot.  Nick and Victor kiss and roll about on this bed.  The camera takes you outside to this beautiful garden where Simon August is laying out on a chaise lounge.  By the way, the house is beautiful and so are the scenes of Lake Washington and the general Northwest.  Before long, Nick and Victor take it to a balcony where they can look out and where you can also see Simon playing with himself.  One thing I like about this video is how our Director is so patient.  He wants you to enjoy the lover's foreplay and he wants you to wallow in the lushness of it all.  So, Simon is outside jacking this really thick cock and Victor and Nick getting busy.   Nick turns that boo-boo to Victor and he slaps it and rims it and they just having themselves a high ho time.  Ain't that what lovers do?  The camera takes you to a shot where Victor is rimming Nick and you get to see all of that hairy man ass in it's glory.    Nick wastes no time in arching that back.  I love that.  Outside Simon applies baby oil to his cock and he's enjoying himself too.  Upstairs, Nick and Simon are still kissing and playing around when Simon gets up and decides to join them and enters the house.  He stands and just looks up at them and it's something about the way he looks at them that I thought was cool.  Before long, he walks up the stairs and joins them.  Victor with his fine ass shucks his sweats and BA-DOW!!! There's that smooth, brown, bubble of an ass.  The two become three, cocks get hard and it's on, ya'll. They get to rubbing cocks and Nick falls to his knees.  All three have wood, but in my opinion Victor's is the prettiest, maybe because it's uncut.  I don't know.  Maybe it's me.  I've never had a problem with cut or uncut.  No matter how you slice it, it's gonna come up dick anyway right?
While on the floor Nick sucks Simon's too and after rubbing themselves together and kissing some more they take it to the bedroom.  It's here where the mirror comes in handy.  Once again the Director takes his time to prolong this three way and it works.  Nick gets rimmed by Simon while he's sucking Victor and so on.  And is it me or is Victor's cock one of those that's hard to measure?  I swear it looks bigger as the scene goes by, not that I'm a size queen or anything like that.  The three have great chemistry together, but in my opinion it's Nick who steals the scene.  He's masculine and you just can't take your eyes off him.  There are great ass shots, great shots in general and the mirror works. Play close attention to Nick and you will see that he's rock hard throughout the entire scene.  Very important.  That shows me that he's not acting, he's enjoying himself.  Nothing bugs me more than a soft bottom.  Simon and Victor just can't get enough of Nick's hairy ass.  They finger it, they rim it and before long, my man Victor puts on a condom and dives right on in.  He wiggles, he jiggles, he's riding while Nick is sucking Simon.  In the end they lay side by side and watch each other jack off.  Nick is the first to shoot, Victor is next.  Simon doesn't shoot and it's fine, but what's up with that?  Nonetheless, beautifully filmed scene.
Next Sean Anderson, this little college jock looking blonde approaches Roman's house with some mail.  Roman is dark, balding and has this nasty look in his eyes.  Y'all know I love that.  Sean is in sweats (no shirt) and Roman is in a towel.  They sit on this great sofa and Roman immediately goes for Sean's nipples.  Pay close attention to his eyes.  This man ain't fed in a while.  Next thing you know Sean's sweats are off and Roman goes for the cock.  The towel is out of the way and I swear Roman must be featuring about nine inches and like Nick in the other scene he's hard as can be.  And ain't it funny how sometimes the ones with the biggest cock is straight up basic bottom?  Same is true here.  Roman wastes no time showing off his "head techniques".  Poor Sean didn't have a chance.  I love how this scene is totally different than the first.  Different because there's this raw sexual energy to these two.  The three in the first scene were loving and tender.  Loving and tender?  Not when Roman is around.  Sean, bless his hard maybe top, but when it was time for him to suck Roman, the poor child just couldn't do it.  I found myself yelling at the television, "girl, suck that dick!  What you doing!?"  I think Mr. Wagner saw the poor child struggling because we immediately see Roman back in charge.  There is this great shot where Roman is on his knees, backed arched, hole just out there and he's sucking like a calf.  All the time his nine inches is just a waving.  There is another shot where he's on the sofa and Sean is standing and you see his mouth just open like a seagull.  I was like, "you go girl.  Take control honey, ain't no body saying nothing over here."  Mr. Wagner loves the little details, so pay attention to the performers faces, that's where the action is.  It's written in their expressions.  These two are perfect together.  And Lord when Sean starts to fucking, Roman is in heaven.  There is a shot where it's filmed from the side of Sean's hairless, creamy ass.  In the shot you can see the "feed me Seymour" look in Roman's face  Very hot.    After awhile, Sean lays back jacking and Roman's face is close to his balls.  He licks his thigh and even licks Sean's fingers.  Hell, I'd cum too.  Sean fills Roman's cheek, lips, nose and chin with goo.  Roman, leans back and pumps out a load from nothing but wood.  The scene ends with this great smile on Roman's face.   Guess what?  "Funn and Games" will make you smile too.
But I got to tell you, "Funn and Games is only available on DVD and like the classic porn of yesterday, there is no dialogue.  It's really not needed. The beauty of it will lure you in.  The music is subtle, the scenery is great, the performers are hot and who wants to hear some lipsy performer say in that nasal voice, "wow coach, you've been working out?"  Don't get me started.
Good Morning Men
(Full review HERE)
Director: Richard Wagner, Ph.D.
Writer: Steven E. Webb
Production date: ©2002
Length: 73 min.
Extras: A 15-min. behind-the-scenes featurette and four performer galleries with 6–8 photos each.
Audio/visual quality: The visual quality is somewhat hit-and-miss, but when it hits, it's quite nice. The lighting is about right, and very good use is made of natural sunlight in several places. The camera angles are also pleasing, with occasional peeks around the shower walls or bed canopy to give a voyeuristic feel. Video problems include soft focus shifts, slightly rough edits, mild camera shake, significant grain, a bit of moiré and a few artifacts. The technical issues are definitely noticeable, yet not so distracting that they ruin the movie. The action appears to take place at only one location, but I do really like the decor (which includes classy black-and-tan color schemes in the bedrooms, spacious and elegant bathrooms, and beautiful sculptures and art).
The soundtrack (by Icepick) is one of the best I've heard in porn. The quality is not quite comparable to that on my other favorite masturbation disc (Girl Show 2), but it's pretty dang good. I would categorize the music as moderately chilled dance—it's got a great groove. The pieces do repeat themselves, but they're worth hearing twice. There's some distortion in the bass, possibly intentional. Live sound is somewhat limited (it's mainly present in the shower segments), but it's mixed at good levels with the music wherever it exists. Careful listeners might detect a few faintly audible directions to the performers.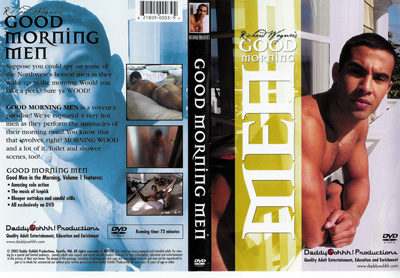 First impression: Please tell me there's going to be a Good Afternoon and a Good Night, too!
Scene highlights: The movie follows my favorite format: wordless storytelling in a series of vignettes. Each of the four scenes shows a little over a quarter-hour of activity as these men wake up and greet their day.
Victor Rios, the sexy guy on the box cover, rubs his eyes and wiggles free of his bedcovers. The mirrored headboard lets us watch him from two angles as his hands briefly explore his nude body. After he gets up, we see him wearing a silky blue bikini, which looks really good on his sweet, round buns. There are some beautiful shots (taped from outdoors) of Victor looking through the tall windows on the stairwell, with the reflection of the garden superimposed on his image. We get a teasing back view as he strips out of his underwear. Victor strokes his brown uncut cock and grinds slowly against the window seat cushion. He soaps up in an attractive shower, where sunbeams and multi-colored neon art subtly highlight the wet contours of his body. The camera follows him around as he towels off. Victor finishes his scene with a little weight lifting, including hammer curls, squats and a few excellent stretches.
Simon August, an upbeat and well-toned fellow, flutters his eyes open. He turns onto his stomach and playfully knocks the pillow off the bed as he gyrates his hips against the sheets. The excellent angle lets us watch him repeatedly rolling his balls back and forth across his cock. Simon looks right into the camera while he wanks and fingers his ass. He teeters on the verge of climax, but instead of ejaculating, he breaks into self-conscious yet good-natured laughter (a perfectly delightful example of blissful rupture, that startling little injection of reality which many porn viewers crave.) Guess what? Simon's in the mood to do YOGA instead. He looks great practicing in his white jock strap; there are only a couple of places where the teacher in me wants to reach through the screen and tweak his form. ("A little less forward lean in virabhadrasana, Simon, that's it, lean back even farther, yes honey, you are supposed to be falling into YogaGrrl's arms…") He also takes a nice, long shower, flashing a big grin at us when he's through.
Benton Place, a pale wiry guy with appealing dark body hair, gradually reveals that he's been sleeping in long johns and athletic socks. He touches himself briefly but seems to understand that the situation calls for something sexier. Luckily, the morning mail has arrived at the front door. Benton pulls two pairs of underwear from the package and tries them on for fit. Yup, nice and snug, just right. They feel so good that he's forced to set them aside and take care of himself on the zebra rug. Benton retrieves the big bottle of lube conveniently tucked behind the floor pillow. His slender cock gets very hard as he vibrates his hand along the shaft. I love the orgasmic expression on his face when Benton ejaculates onto his stomach. He eats a couple gobs of his thick semen, empties his full bladder into the toilet and enjoys a quick rinse in the shower.
Roman Reade's dark hair is thinning, but he's still physically fit and quite well hung. His hand moves beneath the leopard-print blanket, starting the day right with some self-massage. Roman soon pushes the covers aside and reaches for a rubber cock ring, which he wears throughout the masturbation. He plays with his ass, too, while stroking his purple engorged cock. Roman squirts onto his chest and stomach; we get to see his orgasm clearly from two angles. He tastes a little cum off his thumb and slips into a pair of paisley boxers. Then we're off to the bathroom, where Roman shaves his face (for nearly two and a half minutes, which I really like, since I have a slight shaving kink). He also indulges in a steamy shower, where he happily follows the urge to play with himself a bit more.
The behind-the-scenes footage gives some pleasant glimpses into the moviemaking process. The producers are clearly attentive to both the comfort of the performers and to the aesthetics of what's being recorded. It's fun to see the crew members watching the monitor and happily wanking (talk about moral support for the performers!). My favorite part by far, however, is Simon's spontaneous dance on the sunny patio.
Screenshots: At this writing, pix from Good Morning Men are available at the Daddy Oohhh! website. The ones labeled "Nick" don't actually appear in the movie; Nick Stone is briefly visible in the behind-the-scenes featurette, however.
Thumbs up: This is the first male masturbation DVD I've seen, and it's been surprisingly educational as well as entertaining. I never knew, for example, that men might enjoy rubbing and massaging their pelvises against the mattress the same way I occasionally do, or that they might kiss and nibble their own deltoid/bicep muscles like I sometimes do. I like how they touch all their erogenous zones, not just their genitals. These similarities in self-pleasuring caught me agreeably off guard. Without a doubt, the action here is certainly more sensuous than the male masturbation I've watched in straight porn (which basically consists of quick and vigorous pud pulling for the requisite cumshot).
I also give a "thumbs up" to the natural pacing of the scenes. Some viewers will undoubtedly find this movie too slow and too tame, but the zen-like flow genuinely entices me. I like observing men, I find them inherently fascinating, and their everyday activities in these scenes are interesting enough to hold my attention.
I wish I had also mentioned this in my review of Willie Gets a Brand New Thing, but I absolutely adore the box covers from this studio. They're very appealing, and classy enough that I can leave them out without embarrassment on my desk. It's quite nice to glance over and have that little bit of extra creative inspiration while I'm working.
Thumbs down: My main complaint: I need a third hand. It's very tough to type a review when the other two are busy elsewhere.
Yeah, there are problems with audiovisual quality. Yeah, only half the guys climax. In the interest of objectivity, I've assigned ratings which reflect that. These issues would normally bug me. My tastes are evolving rapidly, however, and I'm starting to gain more and more of an appreciation for the realistic feel of amateur style porn, especially the voyeuristic type. Also, I can accept that the director is creating this material from his viewpoint as a sex therapist. I believe that one of his intentions is to show that it's okay if the guys don't climax every time; they're enjoying themselves, and that's what matters. In those respects, the spirit and the philosophy of this production really shines through, and I can easily ignore what I would typically consider "flaws."
Themes: Male masturbation, showering, dressing/undressing, yoga, weight lifting, cum eating, shaving, peeing, toy (cock ring).
Condom use: None (n/a).
Juice-o-meter: Extreme. I find the whole movie arousing—I even orgasmed during the first scene (first viewing) and fourth scene (second viewing). That's a first for me; before this movie, I'd never climaxed while watching porn.
Final analysis: Although I haven't rated it as highly as my other favorite DVDs (due to the technical issues), Good Morning Men has slipped rather easily into my personal top ten list. This movie is highly recommended for anyone who has an interest in male masturbation and doesn't mind luxurious pacing.
Funn & Games

(Full review HERE)
Cast: Nick Stone, Victor Rios, Simon August, Sean Anderson and Roman Reade.
Director: Richard Wagner, Ph.D.
Writer: Steven E. Webb (The storytelling is wordless—there is no audible dialog.)
Production date: 2001
Length: 70 min.
Extras: An 8-min. behind-the-scenes featurette and four performer galleries with 5–15 photos each.
Audio/visual quality: Daddy Oohhh! is a young studio that's still working toward improvement in their technique. Expect some problems with grain, soft focus, rough edits and white balance shifts. The camera style is not highly explicit and usually avoids extreme close-ups. But the lighting is good overall, and the sets are visually appealing. The first scene incorporates the same classy modern rooms that appear in Good Morning Men, with a mirrored headboard providing an alternate angle on some of the action. The second scene features a sexy red and brown tribal-themed den that I haven't seen before.
Daddy Oohhh!'s soundtracks never fail to please me. Funn & Games' moody romantic sextronica is extremely easy on the ears, even if it does loop once or twice. There is no location sound—just the music.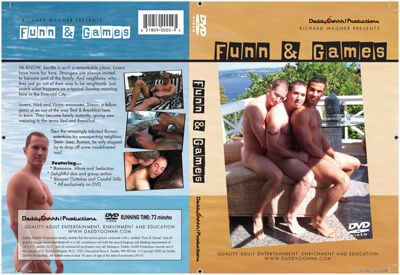 First impression: Why is it spelled "Funn?" Maybe because there's one "n" for "naughty" and one for "nice!"
Scene highlights: Funn and Games includes two sensuous, full-length scenes that unfold on a Sunday morning in the Pacific Northwest.
Nick Stone and Victor Rios awaken with a kiss on a sunny Seattle day (no, it doesn't always rain in the Emerald City). Victor helps Nick out of his "I love boys" tee shirt. This is followed by more kissing, full body embracing, a little tussling to determine who loses his skivvies first—these men definitely care about the "play" in foreplay! They walk hand-in-hand to an indoor balcony, where Nick slo-ooo-wly loses his Halloween-themed boxers so Victor can knead and rim his cute hairy butt.
Meanwhile, another early riser is tanning on the deck of the same bed and breakfast. Simon August is all by his lonesome, but he capably takes matters into his own hands with a bottle of baby oil. By the time he spots the Nick and Victor through a window, the tall, fair stranger is sporting a very attractive erection. Who could resist? Certainly not this loving couple, who happily welcome the inquisitive guest with big smiles and friendly smooches.
Nick and Victor each take a turn providing double blowjobs. Simon mushes his face deep into Nick's ass cleft while Nick deeply sucks Victor's uncirumcised penis. The threesome triangulates several other ways, and Nick accepts the center spot twice as the oral giver and anal receiver. Simon gyrates his hips and swizzles Nick's sphincter before pumping it hard and fast. Victor agreeably completes Nick's anal workout. Nick and Victor lie side by side and pop healthy loads in quick succession (no cutaway shot) while Simon supports. The scene concludes with happy cuddles.
Roman Reade graciously asks Sean Anderson to step inside after Sean stops by with a misdelivered letter. Sean doesn't appear to be at all dissuaded by the fact that Roman is wearing only a towel around his waist. By the time they settle into the leather sofa, there's a significant tenting effect going on. They nuzzle together, and Roman unties the drawstring of his neighbor's sweatpants with a hungry sideways glance. The blowjobs include a little mutual masturbation. Roman does an exceptional job of taking Sean's cock repeatedly down his throat before slipping it effortlessly into his ass.
They make a smooth, connected transition between positions with Roman grinning in wild ecstasy at Sean's gusto. After Roman receives extended anal attention, Sean self-stimulates for several minutes and climaxes onto the side of Roman's face. The editing could have been a little tighter here, but I can see why all the footage was included. Roman repeatedly eyes Sean's perfect penis with an awestruck gaze, exactly like he's discovered the face of God. Roman then strokes his own extra-long schlong to release a light load onto his ribcage.
The behind-the-scenes featurette captures a peek at post-coital glow, along with Sean shaking off a leg cramp. We hear good interaction between the cast and crew and see a few flubs. There's even a bit of extra sex, including a pretty little clip of Simon giving the cameraman a knowing look while he plays with himself.
Screenshots: At this writing, soft-core images from Funn & Games are available at the Daddy Oohhh! website. They provide a good sense of the attractiveness of the performers and the overall vibe of the movie.
Thumbs up: The sex has a genuine warmth and authenticity to it. I never once doubt that these men really want to be doing what they're doing. It's fun—and inspiring—to watch as expressions of pleasure and delight play across their faces.
This is the fourth Daddy Oohhh! production I've reviewed, and I continue to be thrilled by the uniqueness of each one. I never get the sense that I'm watching assembly line porn. Funn & Games has much of the same sweetness as the first Daddy Oohhh! movie I watched (Willie Gets a Brand-New Thing), but in an all-sex format as opposed to a feature.
Just as a footnote, the Daddy Oohhh! producers have endured a bit of criticism over the fact that their movies don't always emphasize ejaculations. For the record, Funn & Games scores a reasonably high cumshot percentage: four out of five. Nick's is especially hearty (as it should be, after all that loving attention in scene one!). The penises stay nice and hard throughout, too.
Thumbs down: Although I dig the romantic feel of this movie, I initially felt a little teased and even frustrated by it. These men seem to go deeply into the lovemaking, and I kept wanting to see and hear the intercourse more explicitly. I especially missed the sounds of the friendly ass slaps, the spontaneous laughter and the grunts of arousal and pleasure. This is largely a personal preference, however. Viewers who like their porn on the softer side might really appreciate the lack of intrusiveness in this presentation. It bothered me less during the second viewing, when I better understood what to expect and raised the rating from three stars to four. (I also liked the freedom of playing the DVD at an appreciable volume while simultaneously enjoying the view of the roofers on my neighbor's house through my wide open window!)
Themes: Gay, three-way, masturbation, oral, deep-throating, anal, rimming, kissing, undressing, tease, facial.
Condom use: Yes, consistently for anal sex. We even see Victor lubing up and rolling his rubber on, which suits me just fine.
Juice-o-meter: Medium for the first viewing; high for the second.
Final analysis: Funn & Games is a good choice for viewers seeking joyful smut. The attitude is affectionate and positive, without lacking in intensity. The performers' personalities really shine through their facial expressions, which gives the sex a feeling of freshness and realness. I definitely believe Funn & Games is worth watching more than once!
Willie Gets A Brand New Thing
(Full review HERE)
Cast: Jeff Baron, Nick Stone, Mateo Urrutia, Luc Hugo, Justin Strife, Gabriel Comet and Simon August (all actors are nicely identified by clips in the credits, which I appreciate).
Director: Richard Wagner, Ph.D.
Writer: Toby R. Nodtobe (based on a book by Henry David Threw, and yes, you should read the movie's end credits for even more goofy puns)
Production date: ©2002
Length: 97 min. (The cover states 105 min., which is the length of feature plus the length of the behind-the-scenes featurette.)
Extras: An 8-min. behind-the-scenes featurette and a slide show with 27 movie stills.
Audio/visual quality: The visual quality is acceptable, but a little amateurish. There are ongoing issues with camera jitters, soft focus, color shifts, grain. The lighting is always adequate, but sometimes rather harsh and uneven. The camera operators eschew proctocam close-ups, instead providing teasing glimpses from just enough angles to confirm that the anal penetration is authentic. The balance of wide, medium and close-up shots is generally pleasing. The scenes include a bit of footage from Willie's Canon ZR40 digital camcorder. It's lower in quality, but this actually works really well (almost like a special effect) in support of the story. The cumshots are shown from two or three different perspectives in quick succession, which I enjoy. The locations are also reasonably classy, with quirky and interesting art.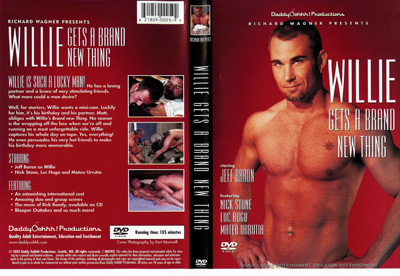 The synthesized score ranges from romantic to rhythmic. It has an atmospheric quality that reminds me of planetarium music. There's some looping, but the soundtrack flows nicely and is above average in quality. The location audio suffers from a bit from background hiss. A few directions to the performers are faintly audible. The volume shifts a little in some places, but the balance between the sex sounds and the music usually seems about right.
Disc problems: I wish the titles weren't split two-thirds of the way through the movie. The viewer can't skip or scan across the "sticky spot"—an inconvenience which makes the DVD authoring seem a bit sloppy.
First impression: Willie's brand new thing is a fine thing indeed!
Scene highlights: All Jeff Baron ("Willie") wants for his birthday is a mini-cam. Fortunately, his lover Mateo Urrutia ("Matt") and other close friends know just how to nurture him for a truly memorable day.
Mateo awakens Jeff with a kiss and a prettily wrapped present. Jeff is eager to test his birthday toy, and he encourages Mateo to do a little performance for the new camera. Mateo shyly smiles as he strips out of his tank and sexy boxer briefs (which are patterned like the Canadian flag). A few more kisses persuade Jeff that he needs to set the camera down. They alternate blowjobs, and Mateo also appears to rim Jeff before giving him anal love in doggy and missionary. The pacing is gentle, and the angles aren't terribly explicit, but Jeff's sustained, appreciative eye contact keeps the chemistry at a nice simmer. Mateo removes the condom and spurts a photogenic load (against a blue backdrop) onto Jeff's balls. Jeff doesn't achieve an orgasm himself. These two guys make a very convincing couple, however, so this pairing has a lot of allure.
Mmmm…the weight room. I can almost smell it. The establishing shot briefly lingers on the beefcake photos on the wall. I love watching men pump iron, and it's fun to check out these guys' form. The trainer, Nick Stone, does curl/press combos—my most favorite exercise for biceps and deltoids. Oops, sorry…I was getting a little distracted there. You want to know about the sex, yes? It's very good. Nick starts with a friendly little ab massage for Justin Strife, a weight room newbie who's learning tricep pull-downs. The undressing is shown (which I really like). The blowjobs are done in every possible permutation and are interspersed with kissing, nipple play and mutual masturbation. Nick gleefully grips the bar and performs mini-pull-ups to fuck Jeff's mouth. The ass play evolves from fingers to tongues to penises. Jeff reaches back and grabs Nick's hip to pull his cock in. Justin also gladly accepts a turn at Jeff's butt. Both men spurt onto Jeff's well-toned torso. Like every scene on this disc, this one has light yet good energy; no one's ever idle for long.
Returning from a run, Gabriel Comet, Luc Hugo and Simon August dive into the fun part of their workout. There's oral affection aplenty for all involved. Simon flashes a huge grin at Jeff's camera while receiving a rimjob from Gabriel and blowjob from Luc. Luc pulls his black jockstrap to the side so Gabriel can swallow the full length of his dick. For the anal, Gabriel dons a cheerful yellow condom, and Simon straddles him cowboy-style. Luc then welcomes Gabriel's cock in two positions and shoots a wild little load in several directions. Luc is the only one to climax, so this scene feels a bit weaker than the one before it. Yet it's still engaging enough to hold my attention. It helps to see Jeff circulating with his camera and stroking in enjoyment. Also, Gabriel is black, which adds a pleasing interracial aesthetic.
Mateo throws a nice little surprise party for Jeff and his friends. Gabriel, Luc, Simon, Justin and Nick gather round the cake to sing "Happy Birthday." The guys exchange affectionate hugs—I don't know if that's common in gay porn, but it's a rarity in the hetero porn that I've seen. After I watched it once, I went back and watched it again. Nick and Justin sneak off to Jeff's bed, where Luc catches them kissing and undressing. Of course Jeff finds them, too, and pretty soon we have one big happy heap of erect cocks. The scene lasts a half-hour, so I won't give a blow-by-blow. I find it sexier than most orgies I've watched, though. There's excellent balance in the activity among the participants—lots of trading around, but nothing too rushed or chaotic. Nick appears to have no trouble taking Jeff's penis down his throat. The anal givers are Nick and Justin, and the receivers are Jeff and Luc. The birthday boy Jeff, who's been saving it up all day, orgasms first. Everyone else soon follows. The movie wraps up with some sweet cuddling between Mateo and Jeff.
Screenshots: At this writing, stills from Willie Gets a Brand New Thing are available at the Daddy Oohhh! website.
Thumbs up: The DVD notes explain, "Daddy Oohhh! is replacing what has gone missing from adult entertainment: the romantic, alluring and seductive aspects of sex. All our products are being produced to appeal to a vast, underserved consumer group—women. While there is an explosion of sexually explicit material available these days, very little is tailored to female tastes. Our remedy…put the playfulness back into sex play, and do so with wit, style and humor. We assume this ethic will resonate well with all sex positive people regardless of gender."
If I'm at all representative of Daddy Oohhh!'s target audience, I must say they are well on their way to fulfilling their mission statement. My primary feelings while watching this movie are delight, amusement and arousal. I especially like the way that Jeff issues gentle commands and encouragement from behind his mini-cam. He's a great model of sexual self-awareness and confidence. His interaction with his friends also adds a clever "gonzo within a feature" twist to this lightly-plotted movie.
Incidentally, the cover photo makes Jeff's hair appear dark brown. Actually, his coloring is more-salt-than-pepper. Very sexy. I adore guys who are going silver yet still have youthful faces and hard bods. The entire cast is good-looking, in fact. Without exception, the performers' faces are handsome, and their physiques are fit (not overblown).
Thumbs down: The behind-the-scenes featurette (inaccurately labeled as "bloopers") includes the director's reassurance to the performers that he doesn't expect everyone to ejaculate in every scene. I have mixed feelings about this. Part of me is cheering, because I admire and applaud his no-pressure style. On the other hand, it is porn. I love cumshots—they're fun to watch, and they bring scenes to a tidy (or not so tidy) conclusion. It's probably more realistic that these men don't always pop, but I find myself wishing they would. Every guy in my fantasies climaxes every time.
Even to my untrained, inexpert eyes, there are problems with the way the bedroom's lit. The key and fill lights appear to be nearly equal in intensity, casting unnatural-looking multiple shadows. It doesn't help that additional ambient lighting comes from the recessed ceiling fixtures and bedside lamps. So the color temperature is uneven—the guys move in and out of orangish spots on the bed. The problem is not severe enough to ruin my enjoyment of the movie. It does give this production a less-than-polished appearance, however, and anyone who's seen more than a few dozen pornos might notice it. The lighting in the gym is better.
Themes: Gay, threeway, group, masturbation, oral, anal, deepthroating, rimming (strongly implied), interracial, kissing, foreplay, undressing, exhibitionism, voyeurism, weight lifting.
Condom use: Yes, always for anal sex. Often we get to see them going on or off, which meets my preferences.
Juice-o-meter: High.
Final analysis: Despite the middling technical qualities (could be better, could be worse), Willie Gets a Brand New Thing charms me from start to finish. The upbeat story and chemistry keep me juicy throughout. It's nice work from a newer studio; I recommend it for all of us who appreciate some romance with our hardcore gay porn.