Funn & Games

(Full review HERE)
Cast: Nick Stone, Victor Rios, Simon August, Sean Anderson and Roman Reade.
Director: Richard Wagner, Ph.D.
Writer: Steven E. Webb (The storytelling is wordless—there is no audible dialog.)
Production date: 2001
Length: 70 min.
Extras: An 8-min. behind-the-scenes featurette and four performer galleries with 5–15 photos each.
Audio/visual quality: Daddy Oohhh! is a young studio that's still working toward improvement in their technique. Expect some problems with grain, soft focus, rough edits and white balance shifts. The camera style is not highly explicit and usually avoids extreme close-ups. But the lighting is good overall, and the sets are visually appealing. The first scene incorporates the same classy modern rooms that appear in Good Morning Men, with a mirrored headboard providing an alternate angle on some of the action. The second scene features a sexy red and brown tribal-themed den that I haven't seen before.
Daddy Oohhh!'s soundtracks never fail to please me. Funn & Games' moody romantic sextronica is extremely easy on the ears, even if it does loop once or twice. There is no location sound—just the music.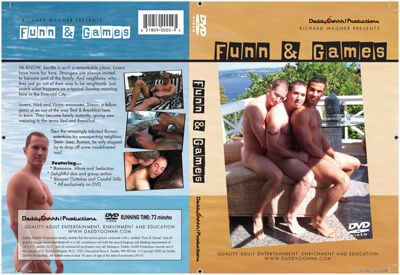 First impression: Why is it spelled "Funn?" Maybe because there's one "n" for "naughty" and one for "nice!"
Scene highlights: Funn and Games includes two sensuous, full-length scenes that unfold on a Sunday morning in the Pacific Northwest.
Nick Stone and Victor Rios awaken with a kiss on a sunny Seattle day (no, it doesn't always rain in the Emerald City). Victor helps Nick out of his "I love boys" tee shirt. This is followed by more kissing, full body embracing, a little tussling to determine who loses his skivvies first—these men definitely care about the "play" in foreplay! They walk hand-in-hand to an indoor balcony, where Nick slo-ooo-wly loses his Halloween-themed boxers so Victor can knead and rim his cute hairy butt.
Meanwhile, another early riser is tanning on the deck of the same bed and breakfast. Simon August is all by his lonesome, but he capably takes matters into his own hands with a bottle of baby oil. By the time he spots the Nick and Victor through a window, the tall, fair stranger is sporting a very attractive erection. Who could resist? Certainly not this loving couple, who happily welcome the inquisitive guest with big smiles and friendly smooches.
Nick and Victor each take a turn providing double blowjobs. Simon mushes his face deep into Nick's ass cleft while Nick deeply sucks Victor's uncirumcised penis. The threesome triangulates several other ways, and Nick accepts the center spot twice as the oral giver and anal receiver. Simon gyrates his hips and swizzles Nick's sphincter before pumping it hard and fast. Victor agreeably completes Nick's anal workout. Nick and Victor lie side by side and pop healthy loads in quick succession (no cutaway shot) while Simon supports. The scene concludes with happy cuddles.
Roman Reade graciously asks Sean Anderson to step inside after Sean stops by with a misdelivered letter. Sean doesn't appear to be at all dissuaded by the fact that Roman is wearing only a towel around his waist. By the time they settle into the leather sofa, there's a significant tenting effect going on. They nuzzle together, and Roman unties the drawstring of his neighbor's sweatpants with a hungry sideways glance. The blowjobs include a little mutual masturbation. Roman does an exceptional job of taking Sean's cock repeatedly down his throat before slipping it effortlessly into his ass.
They make a smooth, connected transition between positions with Roman grinning in wild ecstasy at Sean's gusto. After Roman receives extended anal attention, Sean self-stimulates for several minutes and climaxes onto the side of Roman's face. The editing could have been a little tighter here, but I can see why all the footage was included. Roman repeatedly eyes Sean's perfect penis with an awestruck gaze, exactly like he's discovered the face of God. Roman then strokes his own extra-long schlong to release a light load onto his ribcage.
The behind-the-scenes featurette captures a peek at post-coital glow, along with Sean shaking off a leg cramp. We hear good interaction between the cast and crew and see a few flubs. There's even a bit of extra sex, including a pretty little clip of Simon giving the cameraman a knowing look while he plays with himself.
Screenshots: At this writing, soft-core images from Funn & Games are available at the Daddy Oohhh! website. They provide a good sense of the attractiveness of the performers and the overall vibe of the movie.
Thumbs up: The sex has a genuine warmth and authenticity to it. I never once doubt that these men really want to be doing what they're doing. It's fun—and inspiring—to watch as expressions of pleasure and delight play across their faces.
This is the fourth Daddy Oohhh! production I've reviewed, and I continue to be thrilled by the uniqueness of each one. I never get the sense that I'm watching assembly line porn. Funn & Games has much of the same sweetness as the first Daddy Oohhh! movie I watched (Willie Gets a Brand-New Thing), but in an all-sex format as opposed to a feature.
Just as a footnote, the Daddy Oohhh! producers have endured a bit of criticism over the fact that their movies don't always emphasize ejaculations. For the record, Funn & Games scores a reasonably high cumshot percentage: four out of five. Nick's is especially hearty (as it should be, after all that loving attention in scene one!). The penises stay nice and hard throughout, too.
Thumbs down: Although I dig the romantic feel of this movie, I initially felt a little teased and even frustrated by it. These men seem to go deeply into the lovemaking, and I kept wanting to see and hear the intercourse more explicitly. I especially missed the sounds of the friendly ass slaps, the spontaneous laughter and the grunts of arousal and pleasure. This is largely a personal preference, however. Viewers who like their porn on the softer side might really appreciate the lack of intrusiveness in this presentation. It bothered me less during the second viewing, when I better understood what to expect and raised the rating from three stars to four. (I also liked the freedom of playing the DVD at an appreciable volume while simultaneously enjoying the view of the roofers on my neighbor's house through my wide open window!)
Themes: Gay, three-way, masturbation, oral, deep-throating, anal, rimming, kissing, undressing, tease, facial.
Condom use: Yes, consistently for anal sex. We even see Victor lubing up and rolling his rubber on, which suits me just fine.
Juice-o-meter: Medium for the first viewing; high for the second.
Final analysis: Funn & Games is a good choice for viewers seeking joyful smut. The attitude is affectionate and positive, without lacking in intensity. The performers' personalities really shine through their facial expressions, which gives the sex a feeling of freshness and realness. I definitely believe Funn & Games is worth watching more than once!