RELEASES:
Bar Back Blues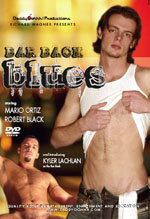 Release Date
September 2006
Director
Riza Niro
Starring
Robert Black, Mario Ortiz, Kyler Lachlan, Yahroe, Marc Lasalle, Alex Vigo
Part 3 of our Bar Trilogy
Pity the lowly Bar Back, he's the lowest man in the bar pecking order. He works hard, but still gets no respect. But in BAR BACK BLUES our young hero earns the admiration he richly deserves.
Where to Buy
Queer4U.com
Check out the Men Hard@Work trailer on the Movie Trailer Page.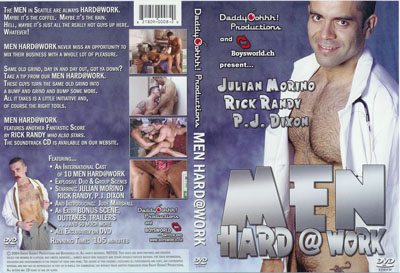 Click here to see the trailer:
Where to Buy

— HERE!

Where to Rent —Daddy Oohhh! Playhouse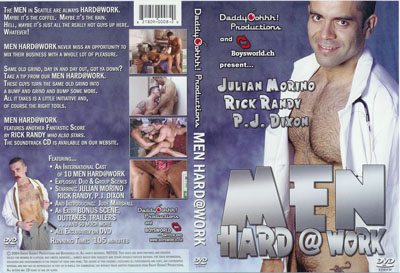 ENJOY THE TRAILERS
FROM OUR MOVIES!
Each movie has it's own TRAILER page.
Bar Back Blues
Best of Jizz4U LIVE, Vol. 1
ENJOY SOME STEAMY STILLS
FROM OUR MOVIES!
Each movie has it's own page of stills.
President & CEO
Richard Wagner, Ph.D., ACS
President & CEO, Daddy Oohhh! Produtions
Clinical Sexologist in Private Practice & Sex Advice Columnist
Philosophy
I affirm the fundamental goodness of sexuality in human life, both as a personal need and as an interpersonal bond. I know the unhappiness and anxiety, which sex-negative attitudes can engender in individuals, alienating them from their own body and the bodies of others. I know that such attitudes affect not only a person's sex life but his/her general relatedness to others as well.
Sexual wellbeing is more than simply being able to perform. It is also taking responsibility for one's eroticism as an integral part of one's whole personality and involvement with others. Between the extremes of total sexual repression and relentless sexual pursuit, a person can be helped to find the unique mean which will free him/her for a life of self-respect, enjoyment and love.
Each person is a special ensemble of dispositions and needs and his/her uniqueness must be respected. I avoid arbitrary notions of "good" and "bad" or "healthy" and "unhealthy." My aim is to provide what information, guidance and therapy as will help the individual get in touch with his/her sexuality, approach it realistically and responsibly, and begin on the way to an independent, growth-orientated, integral, more joyful experience of living a human body.
Background
Since the completion of my doctoral studies in 1981 I have been involved in a wide range of sexological activities including counseling, teaching, lecturing, writing, publishing, video production, in-service training and facilitating groups and workshops. I write an online sex advice column. I am the founder and former Executive Director of the nonprofit organization, PARADIGM; Enhancing Life Near Death – an outreach and resource for terminally ill, chronically ill, elder and dying people.
My therapeutic training includes The Institute for Advanced Study in Human Sexuality San Francisco, The University of California, San Francisco Human Sexuality Unit, and The Pacific Center for Human Growth, Berkeley.
Besides my sexological training I carry a Masters degree in Theology from the Jesuit School of Theology, Berkeley.
I am Board certified by The American College of Sexologists, The American Board of Sexology and The American Association of Sex Educators, Counselors and Therapists.

An Interview with Dr. Dick
GoldiesGayGalaxy.com
August 11, 2006
Today I am going to take a break from my normal Friday Gay Porn Review to provide you with something even better. I had the recent pleasure of interviewing Dr. Dick, aka Dr. Richard Wagner of Daddy Oohhh Productions. So sit back with a cup of coffee in one hand and your cock in the other and learn more about this fascinating man, his most unbelievable past, and his current role in the gay adult scene.
Goldie: Tell me about your background. What were you doing before porn?
Dr. Dick: I came to this work in a most unorthodox fashion. It is certainly not something I ever aspired to do. I was a Catholic priest for 20 years. (I am the only Catholic priest in the world with a doctorate in Clinical Sexology.) I completed my post-graduate work with the publication of my doctoral thesis concerning the sexual attitudes and behaviors of gay Catholic priests in the active ministry in 1981. This was unprecedented research back then (and even now, for that matter). There was a firestorm of international publicity. I was son to be known as "The Gay Priest". Like if I was the only one. Needless to say, this notoriety (some say infamy) effectively ended my priesthood. I fought the Vatican for the next 15 years, from 1981-1996, in an attempt to salvage my ministry, but the deed was done.

My career as a therapist in San Francisco coincided with the advent of HIV/AIDS (1981). Not surprisingly, my practice evolved into working primarily with sick and dying people. In the mid-90′s I founded a nonprofit organization, PARADIGM, Enhancing Life Near Death. It was an outreach for terminally ill, chronically ill, elder and dying people. This was brilliant cutting-edge work. Alas, I couldn't find the funding to continue. This precipitated a rather sudden move to Seattle in 1999.
G: How did you make the transition into the adult market? What attracted you to this job?
DD: I continued to work with sick and dying people here, in Seattle. I started to develop programming for women newly diagnosed with ovarian cancer and men with prostate cancer. I wanted to create videos for people experiencing life threatening and/or disfiguring illnesses to help them deal with reintegrating sex and intimacy post diagnosis. I soon realized that I would need to fund this project on my own. No mainline foundation would touch the issue of sex. Faced with how I might do that, friends prevailed on me to start by making porn. Thus Daddy Oohhh! Productions was born.

What attracted me? The lure of loads of money to fund my great passion attracted me. Unfortunately, the load of money has yet to materialize. Now that I'm actually doing porn, my interest is to create projects that are different in style and tone from what currently rules the marketplace.
G: What is your role within Daddy Oohhh! Productions?
DD: President/CEO: that and a dollar gets me a ride on the bus.
G: What has been your most memorable experience working in the porn industry?
DD: I've met and worked with some marvelously creative people, both in front of and behind the camera. These extraordinary people have helped me make my mark. Without them, there would be no Daddy Oohhh.
G: What makes the content from Daddy Oohhh! Productions unique?
DD: Are you familiar with those innocent, unassuming, joyful, playful, classic films of the early days of porn? The days when the sex was earnest and wild and hot and yet oh so sweet. When the production took a back seat to honest to goodness, unabashed passion. The time before all the polish and gloss; before the cult of hyper-masculinity. Before all the posturing and self-absorption. Before the body stereotyping and humorless, deadpan sex. The days before the cookie cutter, assembly line productions that currently rule the marketplace. I remember those days. I was there! I'm delighted to present my homage to that genuine, albeit brief, time when we celebrated our sexuality with wild abandon and carried on without pretense.

Daddy Oohhh! Productions labors to capture some of the spirit and pathos of that golden era. If you sense that something has gone missing from adult entertainment lately – the romance, allure and seduction – why not check out our stuff. It might just help restore your faith in good old-fashioned smut.
G: Do you have a favorite movie you've shot and if so what makes it so special?
DD: Each of out movies has a certain charm. Of course, I'd say that, they're mine!

No, really, some titles have better production values then others. Some have better performances than others. That being said, if I were to direct someone who wanted to get an idea of the Daddy Oohhh! signature, I'd suggest they check out our most recent title: After Hours and an older title, Willie Gets A Brand New Thing.
G: Are you in a relationship or still looking for Mr. (or Mrs.) Right?
DD: Nope! Single as all-get-out! Isn't that pathetic? All this fine stuff goin' to waste.
G: What types of guys do find sexy?
DD: I'm into trim and fit men. Those who enjoy lots of sensual body contact, massage, wrestling, etc. He's gotta love kissing. I like my sex to be mutual and reciprocal.
G: Boxers, briefs, or boxer/briefs? Or none of the above?
DD: Boxer-briefs
G: What do you have planned for the future?
DD: I hope to make it to dinnertime before I collapse from exhaustion.
G: Thank you for your time, it was great getting to know you better!
Be sure to check out the latest news and find out more about the full line of Daddy Oohhh videos on their official website. To watch them right now, come over to my Pay Per View Porn theater!
It is with great joy and satisfaction that I'm finally able to send you the news that I've been longing to send you for over a year. At long last, http://www.jizz4u.com/ is back.
I'd like to formally welcome you to the premiere of our brand-spankin' new, completely redesigned and redeveloped site. We've included a lot of the bells and whistles you've come to expect from those impersonal mega-sites. But the feel here at Jizz4u remains very comfortable and friendly. We hope you will feel immediately at home.
We are proud to present a superior collection of exceptionally tantalizing men — REAL MEN — believable men. No body-stereotyping here! We go out of our way to bring you the diversity we know you want and appreciate. You'll find a delicious selection of men — gay, straight and bi — representing an array of age groups, body types and ethnicities. And all of our models are here to CELEBRATE THEIR SEXUALITY with and for you.
I hasten to add that this is just the beginning. My business partners and I have exciting plans for the future. We'd be happy to keep you informed of further developments, if you'd like. We hope to set a new standard for quality content delivered in the most up-to-date manner.
Your thoughts and comments are always welcome.
All the best,
richard
Great News Smut Lovers!
The wait is over. Daddy Oohhh! Productions is proud to announce the completion of OUR BAR TRILOGY — Last Call, After Hours and now BAR BACK BLUES.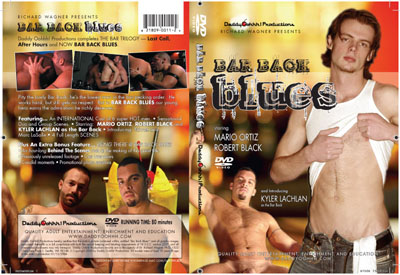 This latest full-length feature, BAR BACK BLUES premiers in the Daddy Oohhh Playhouse; Streaming Video Theater. Check It OUT!
Pity the lowly Bar Back, he's the lowest man in the bar pecking order. He works hard, but still gets no respect. But in BAR BACK BLUES our young hero earns the admiration he richly deserves.
Featuring…
An INTERNATIONAL Cast of 6 super HOT men.
Sensational Duo and Group Scenes.
Starring: MARIO ORTIZ, ROBERT BLACK and KYLER LACHLAN as the Bar Back
Introducing: Yahroe and Marc LaSalle
4 Full Length SCENES
Plus An Extra Bonus Feature…
BEING THERE @ BAR BACK BLUES: An hour-long Behind The Scenes look at the making of this great title.
Previously unreleased footage
Cast interviews
Candid moments
Promotional photo sessions
This Title Will Be Available In Our Store For DOWNLOAD TO OWN Later This Month!