BodyRocks
(Full review HERE)
Cast: Nick Stone, Sebastian Long (aka Roman Reade), Sean Anderson, Bryce Denim, Todd Newman, Clay Calhoon, Bart Wells, Angus Reed and Orlando Alverez.
Director: Richard Wagner, Ph.D.
Writer: Steven E. Webb
Production date: 2001
Length: 60 min.
Extras: A 5-min. behind-the-scenes featurette, a trailer for BodyRocks II and a gallery with 50 images.
Audio/visual quality: It's clear right from the opening credits that this is a classy and artistic production. The camera traces the elegantly lit contours of an attractive nude body—it's Nick Stone, reclining and breathing deeply—while a smooth, sexy dance beat plays on the soundtrack. The editing is spirited and playful, with lots of special effects like split screens, picture-in-picture, monochrome tints, widescreen masks, enhanced motion, jump cuts, mirror images, blurs, frames and filters (I'm not sure I have all the correct technical names, but hopefully you get the idea). There are ongoing issues with soft focus, remnants and shadows throughout the movie, but they're not too distracting. The worst of the visual flaws are concentrated in the last scene, where crew members occasionally intrude at the edges and let their shadows fall on the performers in a more noticeable way. The set design has a nicely authentic feel; it looks exactly like a moderately upscale office complete with a professional massage table.
The soundtrack, by Icepick, is topnotch. I really can't imagine anything more perfect for this production. It has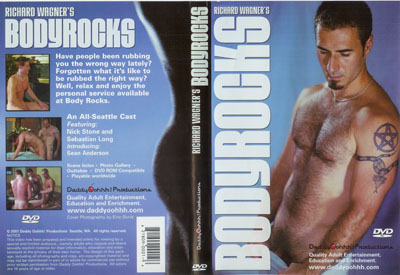 such a great rhythm that I find myself practically dancing in my seat while watching the movie. The on-site audio, where it exists, is sometimes muffled and/or accompanied by background hum. It's not impossible to understand the dialog, but I occasionally have to turn up the volume. Personally, I think music's so good that any blemishes in the location sound can probably be forgiven.
First impression: Hands down, BodyRocks is one sexy DVD!
Scene highlights: The plot is so spare that I decided not to rate it, though the guys deserve credit for delivering their minimal dialog in a natural fashion. BodyRocks is a series of vignettes revolving around the personal services available in a sensual massage room. It's erotic yet also definitely hard-core (in fact, it's significantly harder than the other four movies currently available from this studio).
Orlando Alverez, the receptionist, shows Clay Calhoon to the treatment room. Clay rubs his crotch briefly through his boxer briefs before stripping completely and reclining butt-up on the massage table. Heh heh, I think he's experienced sessions with this therapist before. Sean Anderson (a good-looking, nicely freckled newbie) has barely begun his first oil strokes when Clay nuzzles his face against Sean's groin. That's all the encouragement Sean needs to get naked, too. Sean grasps the back of Clay's head while his cock disappears deep into Clay's willing mouth. Sean joins Clay on the table to provide similar oral attention. Sean rolls Clay's hips up into the air to aim long, assertive strokes down his ass. Both men relieve their tension very effectively onto their own lean bellies.
Todd Newman arrives at BodyRocks wearing a suit and glasses. He complains of girlfriend troubles and confesses his nervousness about seeing a male massage therapist. Because he doesn't seem sure of what he's getting into, the scene initially feels a little uncomfortable to me (though in an interesting way). Bryce Denim's specialty is beginners; he soon soothes Todd's jumpiness. A little effleurage and a lot of kissing are exactly what Todd needs. I like the way Bryce eagerly clambers over Todd for the oral sex, first licking his leg. During 69, Todd fully opens his throat by dangling his head off the edge of the massage table. The camera angle provides a great view of Todd rimming Bryce's ass. Todd fucks Bryce directly to nirvana, with Bryce's stomach muscles growing tighter and tighter until he erupts on them. Todd shoots a second layer of cum across the same spot. These two have great chemistry, finishing with huge grins on their faces. This scene also provides the first clue that someone has been watching the action with a hidden camera.
Bart Wells has obviously been Roman Reade's client for quite some time, since he lets Roman eye him up and down as he disrobes. Roman's cock is so substantial that Bart is pretty much forced to focus his mouthwork on the head. Roman gives Bart's ass a friendly slap before he rims it. Roman playfully pumps Bart's butt in four positions, including cowboy, which allows some truly outstanding eye contact between the two men. Roman wanks out a thick load all over Bart's fresh, receptive face (including his lips and eyelids). Roman's hair is thinning a bit on top, and I think viewers who appreciate the older man/younger man dynamic are really going to dig this sizzling scene.
Nick Stone (the box cover model) waits at the front desk for the arrival of the next appointment. Angus Reed looks pretty dang happy when he learns that Nick will be his therapist—an attitude that I can definitely understand. Nick helps Angus get comfortable right away, caressing him as he's still undressing and giving him something nice to suck. Nick then wraps his lips around Angus' shaft, skillfully working it at all depths, from tip to base. Angus appears to go into an altered state of ecstasy when Nick teases his sphincter with tongue and fingers. Two fingers, three, four and a thumb…now that's stretchy! Angus proves himself equal to Nick's deepthroating during an oral interlude. Nick then thoroughly opens Angus' ass with a hefty flesh-colored dildo and (briefly) with an insertion of his entire hand. Angus keeps his back arched practically the whole time from the sheer intensity of it. As a final gift to his client, Nick sends a strong arc of semen across Angus' torso, which he receives with a grateful smile. But that's not all, since partway through this scene, Orlando reveals himself as the naughty boy who's been watching the sessions. He strokes himself to orgasm while watching the video feed from the hidden camera (which I can relate to, since my response is pretty much identical to his).
At the end of a busy day, the staff members of BodyRocks gather in the lounge to unwind. Nick, Roman, Bryce and Sean pull off their clothes and join up every which way. There's good, bustling energy to this scene; all four performers are frequently visible at the same time, and they're all busy. Roman wears a rubber cock ring. Each man gives and receives oral. Roman and Nick take turns as the center of attention, while the other guys actively stimulate their anuses, penises and mouths. Roman's butt somehow accommodates the thick dildo from the previous scene. All four men climax onto Roman's chest and stomach (Roman and Sean ejaculate in the same take, with no cutaway shot). This scene grew on me with successive viewings. I considered it above average the first time I saw it, but after familiarizing myself more with each of the individual studs, I really got into it the second time.
The behind-the-scenes featurette is short but sweet. We see a few flubs, a little extra sex, and fun interaction between performers and crew.
Screenshots: At this writing, pix from the set of BodyRocks are available at the Daddy Oohhh! website. These images give an accurate idea of what the performers look like, but don't fully communicate the aesthetic quality of the movie.
Thumbs up: Choosing an overall rating on this title has been challenging; I debated quite a while between a 4 and a 4.5. There's no doubt in my mind that BodyRocks is "very good" (the 4-star rating), but is it truly "exceptional" (the 4.5-star rating)? Two elements boosted it to the higher mark: (1) the production quality in the editing/soundtrack and (2) my developing obsession for Nick. Nick Stone, with that oh-so-naughty gleam in his eye and irresistible manly body hair, positively exudes seductive sexual energy. My sources tell me that he also appears in the sixth Daddy Oohhh! title, which was taped in mid-March 2003 and will hopefully be released soon. I'm already waiting on the edge of my very moist seat.
I realize that some viewers prefer straightforward porn with no music and no visual effects. This DVD is probably not the best choice for any purists. But one of the common objections I've heard is that some producers use editing effects in a cheap attempt to disguise poor heat and chemistry. This is never a problem with BodyRocks. Four out of five of the scenes feature excellent one-on-one action, with just the right flow of foreplay and hard-core for my tastes. With strong performances like these, the editor can legitimately go to town with further enhancements. The resulting style reminds me a little of the dreamlike path that my own fantasies often take. For this reason, I find Bodyrocks highly arousing as well as highly aesthetic.
Thumbs down: The running time is a bit lean. Or maybe it just seems that way; this movie flies by for me. One more scene would have been nice. I believe BodyRocks is the first of Daddy Oohhh's DVDs (I'm watching them out of order), but future releases would benefit from the addition of a bonus scene in the extras. It's becoming clear to me that although this studio is consistently sex-positive, the movies do have some great variations in style. Bonus scenes and/or trailers on each disc would help familiarize new viewers with more of Daddy Oohhh's catalog.
Also, this is just a personal preference, but I would've enjoyed seeing a little more massage. Roman and Nick, in particular, appear to have a confident sense of touch. And though this doesn't bother me, I feel obligated to note that some penises in this movie are not erect 100% of the time and that two of the nine performers do not ejaculate. If this is a pet peeve for you, but the movie sounds good otherwise, you might consider checking it out as a rental/VOD instead of a purchase.
Themes: Gay, group, masturbation, oral, deepthroating, anal, rimming, fisting, facial, toys (dildo, cock ring), voyeurism, kissing, undressing.
Condom use: Yes, always for anal sex.
Juice-o-meter: Very high.
Final analysis: My admiration for this young, independent Seattle studio keeps expanding with each movie I see. For hot gay sex that doesn't insult your intelligence, Daddy Oohhh! is the place to go. BodyRocks, with its great sexual chemistry and appealing audiovisual aesthetics, is a perfect place to start.