CountryTime, Country Fine

(Full review HERE)
Cast: Jeff Baron, Brett Collins and Cody Scott (each clearly identified by clips in the credits, which I always appreciate).
Director: Richard Wagner
Writer: Toby R. Noddtobe, based on a book by Henri de Ballsack. Someone's had fun cooking up a slew of puns for the end credits. My favorite? The production sound mixer, Sean Song d'Moor.
Production date: ©2002
Length: 65 min.
Extras: A 10-min. behind-the-scenes featurette and a gallery with 42 images.
Audio/visual quality: The visual quality is tolerable, but not the finest effort I've seen from this studio. The camerawork meanders at times; there are unsteady moments in the handheld footage and possibly too much use of the zoom. The focus is not always as sharp or careful as it should be. The lighting conditions also pose a minor challenge, due to the high contrast between sunlit windows and candlelit interior. Despite the flaws, the movie's never unwatchable. I do think there's a nice, realistic appeal in the overall appearance of the location and the performers.
The 2.5 star A/V rating reflects the fact that although the visual aspects are slightly below average, the soundtrack is good. The romantic anthems are composed specifically for this production and possess a gentle, old-timey country charm. The balance somewhat favors the music, but attentive listeners should be able to understand the dialog.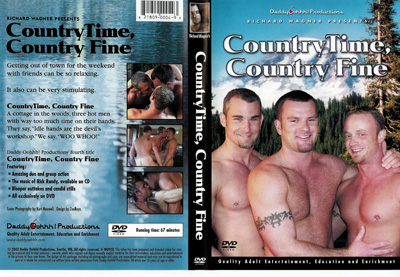 First impression: The living is sweet and soft and mellow in this corner of the country.
Scene highlights: Two lovers, Jeff Baron and Brett Collins, are relaxing with buddy Cody Scott at a weekend cottage. Dressed casually in tees and jeans, they enjoy a friendly game of Seattleopoly. Cody goes to jail, which prompts Jeff to give him a teasing shove and pull off his shirt. The game continues, with all men eventually losing their shirts. Brett leaves to fetch another beer and doesn't seem to mind that Jeff and Cody are kissing when he returns. In fact, he joins them.
Jeff sweeps the game board out of the way so they can all trade smooches on the ottoman. Flies get unzipped, and denim falls away to reveal white undies. Jeff apparently has second thoughts, however, and calls a halt before they take things further.
Jeff and Brett retreat to their bed, where they snuggle for a while in a semi-doze. Cody spies on them and begins to masturbate. There's a pleasing slo-mo shot of Jeff and Brett sliding their cocks against each other. Up to this point, everything's been foreplay, with the clock reading 23:42 as Jeff places his lips on Brett's cock. They add lube for further fondling, and Brett takes his turn at providing oral. When the anal sex begins, we are not in position to see Brett's entry into Jeff. Cody sees it, though, and smiles broadly.
Cody finally dares to step into the room, climbing into bed at Jeff and Brett's invitation. Oral affection flows freely, mostly in the form of sensuous double blowjobs. Everyone takes turns at giving and receiving. Brett provides more anal love to Jeff; again, the footage is not explicit—you'll have to trust the facial expressions if you need evidence that it's really happening. Cody also goes prone for a brief (incomplete?) anal penetration from Brett, but most of the footage here concentrates on the nice kisses and eye contact between Jeff and Brett. After quite a bit of further kissing and stroking, Brett releases a strong pop onto his own belly, followed several minutes later by Cody's equally strong pop onto the same spot.
The behind-the-scenes featurette offers peeks at the photo shoot, suggestions and improvisation from the director, nervous anticipation and camaraderie among the performers, a center of gravity blooper and postcoital cleanup in the shower.
Screenshots: At this writing, soft-core images from the set of Country Time, Country Fine are available at the Daddy Oohhh! website. They accurately portray the look of the movie and its performers.
Thumbs up 'n' down: Depending on your preferences, the format of this movie could be a big plus or a big minus. I'm an erotic realist who takes delight in watching tenderness between sexually attracted men. But ultimately, Country Time, Country Fine is a little sluggish even for my tastes. I prefer more momentum in my sex, and I feel somewhat unnerved by the start-and-stop-and-start-again rhythm in this movie. Still, it's worth noting that it's nearly impossible to find smut consisting of a single scene, lovingly streeeched to a full hour and beyond. Viewers who crave the satisfaction of romantic and true-to-life pacing, complete with its hesitations and moments of awkwardness, might absolutely love Country Time, Country Fine. I do think these men share a genuine warmth; they can't even keep their hands to themselves in the behind-the-scenes footage.
Themes: Gay, threeway, oral, anal (not explicit), masturbation, kissing (major theme), undressing, foreplay, voyeurism.
Condom use: Yes, for anal sex. We get to see Brett putting his on.
Juice-o-meter: Medium low overall.
Final analysis: This movie is not my personal favorite among Daddy Oohhh!'s growing catalog of titles, but I do think it serves a sadly neglected niche. If you're a member of the special viewing audience who prefers sex that's wholesome and easygoing and completely unrushed, then Country Time, Country Fine might indeed be fine and worth your time.