Good Morning Men
(Full review HERE)
Director: Richard Wagner, Ph.D.
Writer: Steven E. Webb
Production date: ©2002
Length: 73 min.
Extras: A 15-min. behind-the-scenes featurette and four performer galleries with 6–8 photos each.
Audio/visual quality: The visual quality is somewhat hit-and-miss, but when it hits, it's quite nice. The lighting is about right, and very good use is made of natural sunlight in several places. The camera angles are also pleasing, with occasional peeks around the shower walls or bed canopy to give a voyeuristic feel. Video problems include soft focus shifts, slightly rough edits, mild camera shake, significant grain, a bit of moiré and a few artifacts. The technical issues are definitely noticeable, yet not so distracting that they ruin the movie. The action appears to take place at only one location, but I do really like the decor (which includes classy black-and-tan color schemes in the bedrooms, spacious and elegant bathrooms, and beautiful sculptures and art).
The soundtrack (by Icepick) is one of the best I've heard in porn. The quality is not quite comparable to that on my other favorite masturbation disc (Girl Show 2), but it's pretty dang good. I would categorize the music as moderately chilled dance—it's got a great groove. The pieces do repeat themselves, but they're worth hearing twice. There's some distortion in the bass, possibly intentional. Live sound is somewhat limited (it's mainly present in the shower segments), but it's mixed at good levels with the music wherever it exists. Careful listeners might detect a few faintly audible directions to the performers.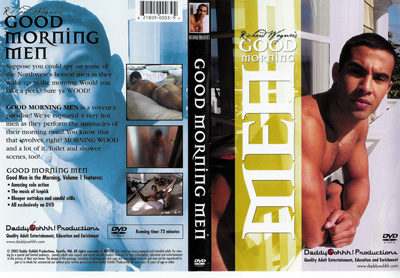 First impression: Please tell me there's going to be a Good Afternoon and a Good Night, too!
Scene highlights: The movie follows my favorite format: wordless storytelling in a series of vignettes. Each of the four scenes shows a little over a quarter-hour of activity as these men wake up and greet their day.
Victor Rios, the sexy guy on the box cover, rubs his eyes and wiggles free of his bedcovers. The mirrored headboard lets us watch him from two angles as his hands briefly explore his nude body. After he gets up, we see him wearing a silky blue bikini, which looks really good on his sweet, round buns. There are some beautiful shots (taped from outdoors) of Victor looking through the tall windows on the stairwell, with the reflection of the garden superimposed on his image. We get a teasing back view as he strips out of his underwear. Victor strokes his brown uncut cock and grinds slowly against the window seat cushion. He soaps up in an attractive shower, where sunbeams and multi-colored neon art subtly highlight the wet contours of his body. The camera follows him around as he towels off. Victor finishes his scene with a little weight lifting, including hammer curls, squats and a few excellent stretches.
Simon August, an upbeat and well-toned fellow, flutters his eyes open. He turns onto his stomach and playfully knocks the pillow off the bed as he gyrates his hips against the sheets. The excellent angle lets us watch him repeatedly rolling his balls back and forth across his cock. Simon looks right into the camera while he wanks and fingers his ass. He teeters on the verge of climax, but instead of ejaculating, he breaks into self-conscious yet good-natured laughter (a perfectly delightful example of blissful rupture, that startling little injection of reality which many porn viewers crave.) Guess what? Simon's in the mood to do YOGA instead. He looks great practicing in his white jock strap; there are only a couple of places where the teacher in me wants to reach through the screen and tweak his form. ("A little less forward lean in virabhadrasana, Simon, that's it, lean back even farther, yes honey, you are supposed to be falling into YogaGrrl's arms…") He also takes a nice, long shower, flashing a big grin at us when he's through.
Benton Place, a pale wiry guy with appealing dark body hair, gradually reveals that he's been sleeping in long johns and athletic socks. He touches himself briefly but seems to understand that the situation calls for something sexier. Luckily, the morning mail has arrived at the front door. Benton pulls two pairs of underwear from the package and tries them on for fit. Yup, nice and snug, just right. They feel so good that he's forced to set them aside and take care of himself on the zebra rug. Benton retrieves the big bottle of lube conveniently tucked behind the floor pillow. His slender cock gets very hard as he vibrates his hand along the shaft. I love the orgasmic expression on his face when Benton ejaculates onto his stomach. He eats a couple gobs of his thick semen, empties his full bladder into the toilet and enjoys a quick rinse in the shower.
Roman Reade's dark hair is thinning, but he's still physically fit and quite well hung. His hand moves beneath the leopard-print blanket, starting the day right with some self-massage. Roman soon pushes the covers aside and reaches for a rubber cock ring, which he wears throughout the masturbation. He plays with his ass, too, while stroking his purple engorged cock. Roman squirts onto his chest and stomach; we get to see his orgasm clearly from two angles. He tastes a little cum off his thumb and slips into a pair of paisley boxers. Then we're off to the bathroom, where Roman shaves his face (for nearly two and a half minutes, which I really like, since I have a slight shaving kink). He also indulges in a steamy shower, where he happily follows the urge to play with himself a bit more.
The behind-the-scenes footage gives some pleasant glimpses into the moviemaking process. The producers are clearly attentive to both the comfort of the performers and to the aesthetics of what's being recorded. It's fun to see the crew members watching the monitor and happily wanking (talk about moral support for the performers!). My favorite part by far, however, is Simon's spontaneous dance on the sunny patio.
Screenshots: At this writing, pix from Good Morning Men are available at the Daddy Oohhh! website. The ones labeled "Nick" don't actually appear in the movie; Nick Stone is briefly visible in the behind-the-scenes featurette, however.
Thumbs up: This is the first male masturbation DVD I've seen, and it's been surprisingly educational as well as entertaining. I never knew, for example, that men might enjoy rubbing and massaging their pelvises against the mattress the same way I occasionally do, or that they might kiss and nibble their own deltoid/bicep muscles like I sometimes do. I like how they touch all their erogenous zones, not just their genitals. These similarities in self-pleasuring caught me agreeably off guard. Without a doubt, the action here is certainly more sensuous than the male masturbation I've watched in straight porn (which basically consists of quick and vigorous pud pulling for the requisite cumshot).
I also give a "thumbs up" to the natural pacing of the scenes. Some viewers will undoubtedly find this movie too slow and too tame, but the zen-like flow genuinely entices me. I like observing men, I find them inherently fascinating, and their everyday activities in these scenes are interesting enough to hold my attention.
I wish I had also mentioned this in my review of Willie Gets a Brand New Thing, but I absolutely adore the box covers from this studio. They're very appealing, and classy enough that I can leave them out without embarrassment on my desk. It's quite nice to glance over and have that little bit of extra creative inspiration while I'm working.
Thumbs down: My main complaint: I need a third hand. It's very tough to type a review when the other two are busy elsewhere.
Yeah, there are problems with audiovisual quality. Yeah, only half the guys climax. In the interest of objectivity, I've assigned ratings which reflect that. These issues would normally bug me. My tastes are evolving rapidly, however, and I'm starting to gain more and more of an appreciation for the realistic feel of amateur style porn, especially the voyeuristic type. Also, I can accept that the director is creating this material from his viewpoint as a sex therapist. I believe that one of his intentions is to show that it's okay if the guys don't climax every time; they're enjoying themselves, and that's what matters. In those respects, the spirit and the philosophy of this production really shines through, and I can easily ignore what I would typically consider "flaws."
Themes: Male masturbation, showering, dressing/undressing, yoga, weight lifting, cum eating, shaving, peeing, toy (cock ring).
Condom use: None (n/a).
Juice-o-meter: Extreme. I find the whole movie arousing—I even orgasmed during the first scene (first viewing) and fourth scene (second viewing). That's a first for me; before this movie, I'd never climaxed while watching porn.
Final analysis: Although I haven't rated it as highly as my other favorite DVDs (due to the technical issues), Good Morning Men has slipped rather easily into my personal top ten list. This movie is highly recommended for anyone who has an interest in male masturbation and doesn't mind luxurious pacing.