Willie Gets A Brand New Thing

(Full review HERE)
Richard Wagner of Daddy Oohhh Productions told me months ago that when he shot his next DVD that he wanted me at his side. The phone call came and he told me that the cast had been chosen for his latest DVD, the cameramen were ready everyone was meeting on the 14th of March. I told him that I'd be there. It meant cutting my trip to California short, but when your friends need you, you're there, right?

I rushed to get my hair cut (it's a bi-monthly thing), and after I walked to Richard's. He wasn't there, so on my way back home, I stopped at my favorite Vietnamese sandwich shop, grabbed a sandwich and was on my way home when I got stopped in the cross walk and just happened to look up and there was a convoy of two cars packed with Richard and his entire cast. They signaled for me to meet them up the street and I hopped in somebody's car and we drove back to Richard's place. That's how my weekend of porn shooting started.

Friday night is the night where we all met each other. Richard had plenty of food on hand and the cocktails just flowed. I had a ball. All the guys were wonderful. The newbies were a little nervous and that's normal. The pro's (either they'd done it before or they were in the business somehow) were confident. Richard was busy talking out the scenes he wanted to see. I suggested this and that and mostly helped Alex, the photographer do his glamour shots with each performer. It was fun and a great way to see what each person was like. And I have to admit that there was something magical that happened to the performers who you could tell really were comfortable in this type of sexually charged atmosphere and the ones who weren't. Guess what? The ones making the most fuss about being photographed turned out to be the shyest on the set. I instantly fell in love with some of the cast like the delightful man with the spiked hair who said that his mother even knew he was here and why. I liked that. I had a nice chat with the Associate Editor from the Seattle Weekly (I thought he was sexy), I adored the photographer. He's just as cute as a button. He started out a little shy with posing the models, but before long it was "yeah, pull out that….". I think the "Leather man"; Mr. Rick Randy is a genius. And I love a man with great piercing. He's on his way to Titan Media you know. Let's see, Nick Stone was there (see my Husband of the month). There was this delightful little bottom that was just burning up to be fucked by someone. You could see it all in his eyes. Jeff from "Willie's Brand New Thing" was there, he and the guy who apparently was going to be in a scene with him. It was hard to talk to either of them because mostly they were all over each other. A Texan was there whom I liked. He had a nice cock and he appeared honest when he said that he almost didn't get on the plane. The cameramen all were great. We talked about the industry and the things that you don't see anymore and what a shame it is. The cameraman from Portland? That little film school one? Child he bought to the set this aloof, sexiness and wood, wood, wood. And he said that he has no interest in being in front of the camera. Child if my buddies over at Raging Stallions saw what I saw, they'd fly to Seattle with a contract and a pen in hand. Okay, so I leave at a respectful hour. Richard said that everyone should be ready for a 9am curtain call at Basic Plumbing. This really great sex club here in town. What did I do? I get home with this great buzz and logged into my favorite site on line where my ad is running. There was this cute Boy (24 years old) on line and I contacted him, he contacted me and before you know it, I was in the shower and knocking on his door. What a slut.

Saturday: I didn't' get home until 7am. I just lay on the bed. I was worn out. I should've worn shades because I pulled into the club on time, but I was looking like something the cat dragged in. Pretty soon we had to unload the equipment, i.e., lights, cameras, monitors, costumes, etc. While one scene was being shot, either the others were sitting around talking or watching the scene. I was close to Richard, whispering in his ear about this or that or setting up a scene or dressing the set. When the cameras rolled, it was live folks! Some scenes took longer than others and I think the expectations of the performers were a little high. From behind the camera I thought that everyone was great. The first scene involved a sling and the "fireman" was great, the Rick Randy was hot and Nick Stone was just wonderful fluffing. After the caterer delivered the food and I ate, this old man was exhausted. The club only let us has it until 3pm, but John and Tom (from Basic Plumbing) were so nice. We packed everything up and I dragged my ass home and took a nap.
Sunday: I got to Richard's house around 9am. He saw me walking down the street and filled me on how things were developing. Some of the cast left, there was a family emergency for another member and everyone had issues or questions. Richard drove, I listened. We got downtown to the hotel and picked the remaining cast up and headed back to Richard's. Everyone was a bit different from the day before. I think some of the cast had expectations that didn't quite come true. Performing in front of God, a full crew and having sex for a video is hard, hard work. I stayed and chatted with the cast while a scene was being filmed upstairs. It was me, "the Priest", "the Leather man", "the Fireman", Nick Stone, the behind the scenes cameraman and the guy whose mother knew where he was. I respected him and I don't know why. He seemed so sincere. Honest and for real. The kind of guy that has nothing hidden and the kind any mother would love. And he gave his all to his scene. I was shocked. I would love to see him in something else. I thought he was great. One scene was shot upstairs which I didn't see actually, but I heard. The next scene was shot in Richard's living room and the intensity was amazing. Everyone was tired, but they gave their all to this final scene. The hair on my arm stood on end as I sat and watched what unfolded in front of my eyes. I chatted with Nick Stone and Richard for a while as we watched the remaining cast do their thing.

What an interesting opportunity. It's really fascinating all of the hard work that goes into the videos that we see or rent at our local video stores. And so much is edited and ends up on the cutting room floor. Could I do it? No. Am I glad I was there, sure. It was fun. So, when the DVD comes out, you know where to get the review. I'll be sure to give you all the dirt at that time.

And on to the Review


Willie Gets A Brand New Thing
Starring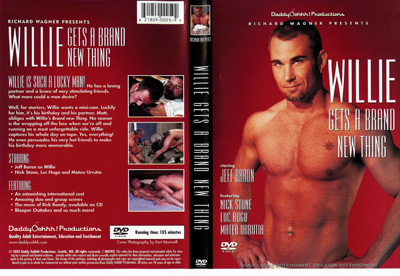 Jeff Barron
Nick Stone
Luc Hugo
Mateo Urrutia
Justin Strife
Gabriel Comet
Simon August

The DVD opens with Jeff Barron lying on a beautiful bed. He's really such a hunk of a man. Is lover Mateo Urrutia approaches in these really great Canadian boxers and gives Jeff a gift. It's a camera. It's funny seeing Jeff this way and seeing him on set of Wagner's latest video. Jeff seems really quiet and I cornered him in the kitchen during the shoot and we had a nice little talk about how it makes him feel to be seen this way and to be seen with his ass all up in the air. It was really difficult to talk to him because he and his new co-star were all over each other and that was cool. Let it not be said that I stood in the way of chemistry. Anyway, Jeff and Mateo are on this really beautiful bed. Rumor has it that the owners of the house where the video was shot went out and bought new linen for the bed. New linen just for the shoot. I hear them. Hell, if you filming in my house, I want my shit to be right too. The two lovers try the camera out. Mateo is a cute, boyish young man with just enough of that youthful baby fat to be sexy. He gets out of his boxers and they kiss. Jeff sets the camera down and they start making out. Cocks get stroked, they kiss some more and the scene is very romantic.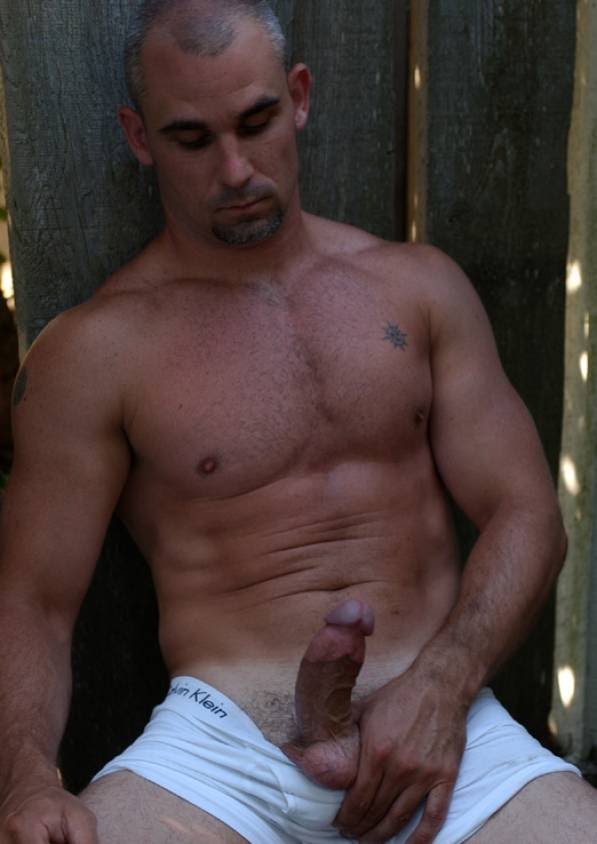 This is a Daddy Oohhh production so you know it's going to be filmed lush and very sensual. Other reviewers have a problem with Wagner and the way he takes his time with the little things like foreplay and sensuality, but I think these things are important. But that's just me. Jeff goes for Mateo's cock and it's a nice cock too. There is this nice shot; shot from Mateo's back, which I thought, was nice. Mateo sucks Jeff who was blessed with a beautiful ass. If I had an ass like that (I've been cursed with this little Diana Ross "touch me in the morning, then just walk away" ass), but if I had back like that, I'd go on the road and tour. No joke. Jeff's ass is fuzzy, not hairy too and that's nice. It lets you know that you're fucking a man. Know what I mean? Got to love that.
The room is great too because of the great paintings on the wall and the paint on the walls. I pay attention to shit like that. Jeff lies on his back and Mateo sucks him. Wagner didn't put make-up on the blemishes and human flaws. I like that. A nice real touch. Mateo at one point, is either sucking Jeff's balls or doing something down in Jeff's valley, but you can't really tell because we're not allowed to see it. And that's a shame. There's nothing, in my book, like a good ball sack lapping. Jeff is on all fours, a condom is produced and Mateo goes for it. There's a little trouble at first so he finger's Jeff's ass a bit. I do that too. With some luck and some pushing, bingo, we get contact. It's nice when Jeff gets on his knees with Mateo behind him. The two of them have great coloring. Back on his back, Mateo is fucking Jeff and Jeff is staring into his face. Hot. Jeff even says, "give it to me" and that was hot. So they were fucking and I sat in front of my DVD player worried about the sheets. Silly me. I really need to get out more. Jeff and Mateo kiss and it's so gentle. A kiss is the best part. I've learned form experience that if the kiss is bad, get your hats, the rest of it is going to be fucked up. So demand that a man is a good kisser, children. Save yourselves the headache. The two stroke some more and Mateo shoots all over the beautiful linen. There is a great shot of Mateo's load on the inside of Jeff's thigh. Beautiful. Jeff strokes, but no cum shot. Hmmmm? They embrace and that's the first scene.

Next we're in a gym. Enter Nick Stone, that little sexual dynamo and Justin Strife, his work out partner, Gabriel
Comet, Simon August and Luc Hugo. Hugo is pretty. All me. He's that type that will have you working sixteen hours a day just so that he'll have everything that he says he need. You know the type. I run from that type these days. Give me an old fashioned, hard working Joe Average. At forty, I don't want to feel that good, know what I mean? But, don't get me wrong, I'd still do that type, but these days I keep some bobbi pins in my hair and pray. So everyone is exercising, pulling this, lifting that and Nick is there to help. He's like the trainer. In walks Jeff Barron and he shows off the camera he got from his lover. It's his birthday, you know. You know what comes next? He tapes the work. Everyone leaves except Justin Strife, Nick and Jeff. Jeff is this thin, retro looking guy with this great stomach with the pretty birthmark on it. Nick stands in front of him and goes for his cock. Suddenly Strife's shirt is off and the banter between the two of them is cute. Some people shy away form "porn monologue", but I like it.

Nick gets on his knees and plants little kisses on Strife. Nice. Meanwhile Jeff is filming. Nick is hard and stroking while he sucks. That's the markings of a great cocksucker. Amateurs take note. Nick is great and he has such a great cock. You should see it in person. And the Strife's cock is pretty impressive too. There's a nice shot of Nick sucking Strife's nipples. Jeff stands and kneels to get the best shot form his hand held camera. You know before long what he's seeing turns him on. Nick and Strife get naked and Jeff's turns in a Director telling the two what to do. At one point he says, "why don't you share that with the birthday boy"? He meant that. Mr. Barron is quite a cocksucker himself, don't let him fool y'all. They both suck Nick and Nick is hard as can be. They switch and Nick takes them both. Nice. Nick gets behind Jeff and plays with his ass. Thank God. Jeff gobbles Nick again while Strife watches. There is a mirror behind them and it's great. I love a mirror, that's why I have two very large ones placed just so in my bedroom. They work. Strife is fumbling around with Jeff's ass, which frustrated me. I was like "slap that ass", but like I said, I need to get out more. Jeff even announces, " get down there and play with my ass". Does he? No. Once again sending children in to do a grown up's job. How I wanted to slap Strife. And knowing the real man behind Jeff Barron, he would want you to slap his ass and pull his hair. He may not admit it, but you have to get up pretty early in the morning to fool an old girl like me. They switch and Nick rims Jeff while Strife sucks Jeff. Look at Stone; he's in his zone. We talked about him and that look on his face when he's in his zone. Jeff is on his back and Strife is jacking. Jeff licks Strife's balls. Nick feed Jeff his cock while Strife is fucking Jeff. They both stand over Jeff and stroke. Strife cums first then Nick cums while cupping his balls. Jeff doesn't cum though. Hmmmm?


Luc Hugo and Gabriel Comet (whose a very handsome Brother, by the way) are in the gym with Simon August. Jeff is there filming in a jock which only accentuates his beautiful ass. August stands and Hugo and Comet suck him off. Comet, Brother that he is, takes charge and starts rimming August. Jeff tells Comet to let us see his big cock. And Comets turns and shows us. I thought that was nice. Sure Comet has a nice cock, but it's his bubble ass that I liked. Where was I when they were passing those out? I'm going to have to take that up with the Lord when I see him. Hugo is uncut and that's always nice to see. He sucks them both. I think he's so sexy. Great shot of the camera showing us what's on Jeff's camera. Nice touch Mr. Director. Jeff starts to stroke as he shoots. Gabe is on his back at one point, August lubes him up and August sits on it. Jeff is right there with his camera. They change condoms and Hugo rides Comet. It's so good to see a Brother on video. I just wish that he would've sliced and diced the girls, but he was totally Coolsville. I'm the same way myself. Great shot of Hugo laying back and stroking. Hugo shoots first and that's it. End of scene.
Next Mateo is seen setting a table. He lights candles and everyone arrives to sing "Happy Birthday" to the birthday boy, Jeff. It's cute.
Nick Stone and Strife are making out on the bed. They kiss and just when you think that Stone is going for the cock Hugo joins them. There's a great shot of Stone being semi-hard in his underwear. Stone pulls out Hugo's cock and starts sucking. Once everyone is naked Jeff arrives with his camera and films it all. The lighting is amazing. Jeff asks could he join them. What they gonna say, "no"? I have a hard time with group scenes on video. My old eyes can't deal with splitting my attention that way. But pay attention to Jeff's head techniques and his ass. Also watch for how Stone just seems to fit no matter where he is. There's a great daisy chain and a beautiful bed. I thought that Jeff and Nick far out performed the two others. And it's funny, but it seemed that Jeff is his most erect when he's in a submissive position. Wonder why? Hugo's sixty-nine with Nick is hot. Before long Nick has a condom on and he fucks Hugo while Strife is stroking. Nick fucks Jeff and they occupy the scene. Jeff shoots for the first time since the beginning of the DVD and it's impressive. I guess it was worth the wait. Nick shoots what looks like a _ cup followed by Strife who shoots all over Jeff's chest. Hugo follows up with his money shot.

At the end Mateo is in bed when Jeff enters the room. Mateo tells him to put the camera down and come to bed. They kiss, say "good night" and Jeff finds his spot in a really loving spoon and it's fade to black.
Nice.