Great News Smut Lovers!
The wait is over. Daddy Oohhh! Productions is proud to announce the completion of OUR BAR TRILOGY — Last Call, After Hours and now BAR BACK BLUES.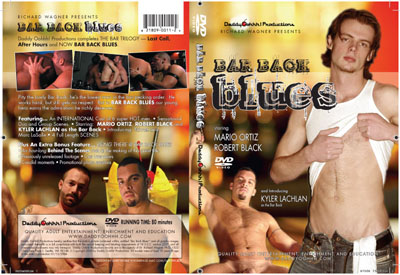 This latest full-length feature, BAR BACK BLUES premiers in the Daddy Oohhh Playhouse; Streaming Video Theater. Check It OUT!
Pity the lowly Bar Back, he's the lowest man in the bar pecking order. He works hard, but still gets no respect. But in BAR BACK BLUES our young hero earns the admiration he richly deserves.
Featuring…
An INTERNATIONAL Cast of 6 super HOT men.
Sensational Duo and Group Scenes.
Starring: MARIO ORTIZ, ROBERT BLACK and KYLER LACHLAN as the Bar Back
Introducing: Yahroe and Marc LaSalle
4 Full Length SCENES
Plus An Extra Bonus Feature…
BEING THERE @ BAR BACK BLUES: An hour-long Behind The Scenes look at the making of this great title.
Previously unreleased footage
Cast interviews
Candid moments
Promotional photo sessions
This Title Will Be Available In Our Store For DOWNLOAD TO OWN Later This Month!