Press Releases

Awards

Interviews


An Interview with Dr. Dick
GoldiesGayGalaxy.com
August 11, 2006
Today I am going to take a break from my normal Friday Gay Porn Review to provide you with something even better. I had the recent pleasure of interviewing Dr. Dick, aka Dr. Richard Wagner of Daddy Oohhh Productions. So sit back with a cup of coffee in one hand and your cock in the other and learn more about this fascinating man, his most unbelievable past, and his current role in the gay adult scene.
Goldie: Tell me about your background. What were you doing before porn?
Dr. Dick: I came to this work in a most unorthodox fashion. It is certainly not something I ever aspired to do. I was a Catholic priest for 20 years. (I am the only Catholic priest in the world with a doctorate in Clinical Sexology.) I completed my post-graduate work with the publication of my doctoral thesis concerning the sexual attitudes and behaviors of gay Catholic priests in the active ministry in 1981. This was unprecedented research back then (and even now, for that matter). There was a firestorm of international publicity. I was son to be known as "The Gay Priest". Like if I was the only one. Needless to say, this notoriety (some say infamy) effectively ended my priesthood. I fought the Vatican for the next 15 years, from 1981-1996, in an attempt to salvage my ministry, but the deed was done.

My career as a therapist in San Francisco coincided with the advent of HIV/AIDS (1981). Not surprisingly, my practice evolved into working primarily with sick and dying people. In the mid-90's I founded a nonprofit organization, PARADIGM, Enhancing Life Near Death. It was an outreach for terminally ill, chronically ill, elder and dying people. This was brilliant cutting-edge work. Alas, I couldn't find the funding to continue. This precipitated a rather sudden move to Seattle in 1999.
G: How did you make the transition into the adult market? What attracted you to this job?
DD: I continued to work with sick and dying people here, in Seattle. I started to develop programming for women newly diagnosed with ovarian cancer and men with prostate cancer. I wanted to create videos for people experiencing life threatening and/or disfiguring illnesses to help them deal with reintegrating sex and intimacy post diagnosis. I soon realized that I would need to fund this project on my own. No mainline foundation would touch the issue of sex. Faced with how I might do that, friends prevailed on me to start by making porn. Thus Daddy Oohhh! Productions was born.

What attracted me? The lure of loads of money to fund my great passion attracted me. Unfortunately, the load of money has yet to materialize. Now that I'm actually doing porn, my interest is to create projects that are different in style and tone from what currently rules the marketplace.
G: What is your role within Daddy Oohhh! Productions?
DD: President/CEO: that and a dollar gets me a ride on the bus. 😉
G: What has been your most memorable experience working in the porn industry?
DD: I've met and worked with some marvelously creative people, both in front of and behind the camera. These extraordinary people have helped me make my mark. Without them, there would be no Daddy Oohhh.
G: What makes the content from Daddy Oohhh! Productions unique?
DD: Are you familiar with those innocent, unassuming, joyful, playful, classic films of the early days of porn? The days when the sex was earnest and wild and hot and yet oh so sweet. When the production took a back seat to honest to goodness, unabashed passion. The time before all the polish and gloss; before the cult of hyper-masculinity. Before all the posturing and self-absorption. Before the body stereotyping and humorless, deadpan sex. The days before the cookie cutter, assembly line productions that currently rule the marketplace. I remember those days. I was there! I'm delighted to present my homage to that genuine, albeit brief, time when we celebrated our sexuality with wild abandon and carried on without pretense.

Daddy Oohhh! Productions labors to capture some of the spirit and pathos of that golden era. If you sense that something has gone missing from adult entertainment lately – the romance, allure and seduction – why not check out our stuff. It might just help restore your faith in good old-fashioned smut.
G: Do you have a favorite movie you've shot and if so what makes it so special?
DD: Each of out movies has a certain charm. Of course, I'd say that, they're mine!

No, really, some titles have better production values then others. Some have better performances than others. That being said, if I were to direct someone who wanted to get an idea of the Daddy Oohhh! signature, I'd suggest they check out our most recent title: After Hours and an older title, Willie Gets A Brand New Thing.
G: Are you in a relationship or still looking for Mr. (or Mrs.) Right?
DD: Nope! Single as all-get-out! Isn't that pathetic? All this fine stuff goin' to waste. 😉
G: What types of guys do find sexy?
DD: I'm into trim and fit men. Those who enjoy lots of sensual body contact, massage, wrestling, etc. He's gotta love kissing. I like my sex to be mutual and reciprocal.
G: Boxers, briefs, or boxer/briefs? Or none of the above?
DD: Boxer-briefs
G: What do you have planned for the future?
DD: I hope to make it to dinnertime before I collapse from exhaustion. 😉
G: Thank you for your time, it was great getting to know you better!
Be sure to check out the latest news and find out more about the full line of Daddy Oohhh videos on their official website. To watch them right now, come over to my Pay Per View Porn theater!

Interview, Jeff Baron, Daddy Oohhh! Feature
AGuySite.com
February 5, 2003
questions and intro for jeff baron
when i interviewed richard wagner of daddy oohhh! productions, i was very intrigued by one of the actors for the title 'country time, country fine'. jeff baron was the man who i watched with both a woody and a desire to find out what the man is like off camera. with a few more films under his belt now, 'x-pressed desires' and 'willie gets a brand new thing', mr. baron seems to be pulling back from the buisness. is life giving him another road to take. or is he looking to journey deeper into the industry. the interview you are about to read was done just before the filming of 'willie', so the answers reflect his experiences during this time in his life. much respect to the men of the buisness who take their clothes off for the lens. and i bow to your techniques and presence on film.
Hi there Nate, it is **** here a.k.a Jeff Baron. Thank you for the email and am SO flattered that you like my performances for Daddyoohhh. Here are the answers to the interview questions you asked. I checked out the website and think it is great!
1. What led you to become an adult porn star?
I met a guy in Whistler last year who is a pornstar. We were getting together in Seattle for the weekend, and at that time he was shooting a video for Daddyoohhh. One of the cast was unable to make it and they needed a replacement, so my friend asked me if i would be interested in filling in and i thought…. what the hell, give it a shot!
2. What goes through your mind when that camera started rolling for your first scene of your first feature?
The words " holy shit, i can't believe i am doing this" crossed my mind every 30 seconds after the camera's started rolling, and then i just tried to tune out all the lights and cameras and pretend we were alone.
3. What would you say to a fan that may recognize you in public?
I would say…. It was not me, it was my identical twin bro who is the pornstar. I am the shy one out of the both of us…….lol
4. What's your best feature on your body?
I don't know. I would have to say maybe my ass is my best feature.
5. What's your best technique when you're intimate with a guy?
I give a wicked blow job!!!….lol
6. I personally enjoyed 'country time, country fine'. you give a fully erect-stand out performance in that film. My question to you is what was your overall favorite experience during the filming process?
My favorite part about the filming process, especially for Country Time, country Fine, was the people. They were so wonderful and totally put my mind at ease through the whole shoot.Both the producers and the cast.
7. Are you currenlty in a relationship? If so, how does your new adult film career affect that relationship? If you're single, how would you approach a relationship while filming adult films?
I am currently single, but am very much in love with someone. We had a short, intense, beautiful relationship.He was alright with the fact i made some movies.I would always put my relationship first, and if he was uncool with the whole video thing, i would give it up in a second for him.
8. What advice would you give to that average joe who is giving thought of starring in adult films?
I would say, if you want to do it, go for it because life is too short to let opportunities go by.I would rather do something and figure out it is not for me than to go through life saying, i should have tried it when i had the chance.
9. How did your first sexual encounter happen?
I was the neighborhood slut at the age of 6……lol i used to manipulate all my little friends into pulling out their dicks for me to play with.
10. Humorous question. Would you give your adult feature films as gifts to your gay and/or straight friends?
I would not give any of my gay or straight friends my videos as gifts because the are too expensive…..lol I am a starving student here…..lol and besides, all my gay friends have had me in person, so they don't need to see me on film ( just kidding :P)
11. Where do you see yourself five years from now?
I try not to look to far ahead, and just live day by day because you never know how life can change in the blink of an eye.
12. What's your workout routine like? Do you diet? or just eat whatever ya like?
I workout 5 days a week for about an hour. I am the worst with my diet because I am so busy and grab way too much fast food. I am blessed with a super fast metabolism.
13. What does a porn star like you do between filming features?
I have only made a couple movies so i don't know how to answer this question.
14. Ever think about getting behind a camera for an adult feature?
No, i think being in front of the lense is a hell of alot more fun!!…..lol
15. Think back to your teenage horny past. When did you first notice you happen to enjoy guys?
See question 9
16. For new fans such as myself, What can we expect from you in future adult features?
You will probably see me more relaxed in future films, and possibly trying some different stuff like leather scenes etc.
17. Do you stay in touch with your adult co-stars after filming is over? Maybe go out to dinner with them, Have threesomes- maybe orgies, I don't know, have a bar-b-que?
As of yet i have not kept in touch with any of the boys i have shot films with. I have spent most of the last 8 months focussing on a relationship.
18. Can we expect a personal website from you in the near future?
I have not thought about the whole website thing, but it is a definite possibility.
19. A gay fun question. Does your penis have a nickname? if not, what would you call it, you know if you really had to call it something.
my dick does not have a nickname yet. I am waiting for the right man to come along and name it for me!!…..lol
20. Final question. Pretty deep and meaningful one. From your personal experiences. What is the best thing about gay life? What's the worst?
The best thing about gay life is the same as life in general.We have freedom and the right to express ourselves however we choose. The best part about gay life for me is being in love and sharing my life with someone incredible.The worst part is that i will probably never have children.

Thanks alot Nate for the oppurtunity to answer these questions for your website and for your kind words regarding my work in the adult film industry. Take care.

Interview, Richard Wagner, CEO of Daddy Oohhh!
AGuySite.com
February 1, 2003
first off, all i ask for first is a quick bio. your name, age, where you and your buisness reside. any favorite anything?
Richard Wagner – 53 – Seattle, WA i love the beautiful pacific northwest.
1. Daddy Oohhh Productions. It's a great name. I'm curious what the meaning is behind the name.
it is kinda fun, isn't it? it doesn't have a whole lot of meaning, just a fun, playful '50s sorta thing.
2. Tell me in your own words how your business started off in its first few months. Was it difficult getting the company off the ground?
it sure was difficult getting it off the ground. hell, it still is a huge challenge.

this industry has a very unsavory reputation for the most part. and it's a reputation that is richly deserved, in my estimation, lots of bottom feeders.

I'm often frustrated in my search for quality, like-minded collaborators. so many folks are in this for a fast buck. there is a lot of exploitation, not to mention the body stereotyping and humorless, deadpan sex in the cookie cutter, assembly line productions that currently rule the marketplace.

the projects we do celebrate sexuality, not denigrate it. our movies are more romantic alluring and seductive than most. We attempt to feature the whole person, not just bumping parts. however, these values are not necessarily embraced by the industry as a whole. thus, marketing our products can be formidable.

and, of course, cash flow is always a pressing issue for a small boutique production house like ours.
3. What advice would you give to a newbie out there looking to start their own adult company?
enter a convent instead!

just kidding. I'd suggest the budding pornographer find something that will make his/her product distinctive, something that will give him/her joy. I'd also suggest that he/she do quality work, that he/she treat people well, have sufficient financial backing. finally, try not to take it all too seriously, it's just sex, after all.
4. Your first film was 'BodyRocks'. Tell me how that whole process went? The casting? The good moments? The worst moments?
i didn't have a clue about anything that first time around. i learn best by just going out and doing something. so, the whole adventure was pretty much a trial by fire.

i placed a casting call ad in one of the local alternative newspapers. did a slew of auditions. (like my daddy always said, "you have to walk through a lot of manure before you find the pony.") wrote a "script". (and i use that word very loosely.) chose a cast of nine. (a very ambitious number.) got a couple of people to help me operate cameras and adjust lights. (which we did poorly). and we did it all in one day. (sheesh!)

I don't recommend this as a template for success, although BodyRocks is still our best selling title.

the worst thing…the production values weren't particularly high.

the best thing…i discovered Nick Stone (the BodyRocks cover model). he's the quintessential daddy oohhh star. he embodies everything i'm trying to do. He's been part of every production but one and he's a sweetheart dollbaby on top of that.
5. Your company appears to have first started off as a gay adult entertainment company, but you are about to open the doors to another side of Daddy Oohhh! Productions. What can we expect from you within in the year?
a complete mental breakdown! no, just kidding.

besides the entertainment portion of our mission we will also be doing sex education. we are preparing projects that will help people face and explore their sexuality after a life-threatening or disfiguring illnesses such as ovarian cancer, breast cancer and prostate cancer.

the enrichment portion of our mission is to create helpful as well as witty and humorous "how to videos" for those who want to expand their sexual repertoire (anal sex, oral sex, SM, BD, etc).
6. Are you currently in a relationship? or does one have time for a relationship or dating with a business like yours?
no, I'm not currently in a relationship. unless you count my housemate, ginger, a 3 year old german shorthair pointer. she's completely kooky nutty, just ask anyone who has met her.

ya know how some guys are looking for a sugar daddy? i'm looking for a sugar SON. someone who will work really, really hard to keep me in the style of life that i wish to become accustomed. someone who will indulge me as I go about this quixotic adventure.

Do you know anyone who fits the bill, nate?
7. What exactly are you looking for when it comes to casting for a future feature of a Daddy Oohhh! film?
i look for normal looking people; in shape, charismatic and photogenic, to be sure, but normal. The kind of men you'd be likely to meet at a local coffee shop. gay and bi men of color and diverse cultural backgrounds are of particular interest to us.

i believe in integrating our films with a range of age groups, body types and ethnic origins while staying true to our overriding concern – finding performers who are sex positive and enjoy themselves in front of a camera.
8. Now as you know my favorite film so far is 'CountryTime, Country Fine. My question is, what was the inspiration behind this film? Any behind the scenes moments that you remember most?
boy, i could tell you stories that would make your hair stand on end, don't 'cha know.

it all started with the house we filmed in, a charming 19-teen's country cottage in the burbs. then someone had the Seattle Monopoly board game, then we had the cast (and a delicious cast it was, too). Then I threw them all together and let the actors do what comes naturally. It was amazing, there was so much passion on the set that day and it really shows, don't you think? i always include a bunch of behind the scenes shots on each DVD we release. i get to choose them myself, so if you want to know the intimate details of the CountryTime shoot, that's the place to look.
9. Do you plan on taking the brand name Daddy Oohhh! to new ventures beyond adult films? Maybe a gay bar/club? Traveling 'how to' gay seminars? I don't know…maybe an adult acting school?
i've been working in the sex field for over 20 years, predominately as a therapist. I've been involved in all sorts of sex education and sexual enrichment projects, so I suppose there will be lots of new ventures in the future.

funny you should mention the adult acting school thing. i've been asked by a local organization to put together a class titled, Being In Porn – 101. I liked the idea, so I'm putting some energy behind it. i'd like it to be a class not just for actors, but for those who aspire to crew a porn shoot.

and then there's also my on-line sex advice column, Ask Dr. Dick.
10. Is your family and friends affected by this choice of career? Does your family even know?
i'm pretty rebellious and unorthodox by nature. for example, i was a catholic priest for 20 years. really! Scary, huh?

I published my doctoral thesis, a study of the sexual attitudes and behaviors of gay catholic priest in the active ministry back in 1981. This was long before the church could acknowledge that there was even such a thing as a gay priest.

this ground-breaking research caused a international furor. It probably didn't help matters any when i publicly "came out" as a gay priest myself at the same time. the shit really hit the fan. i was punished severely, silenced, deprived of all financial support and ostracized by the church. they finally "removed me from active ministry" (though they did not defrocked me) in 1995. Yes, I still have my frock, and it's quite a lovely frock, too. Would you like to see it? ; – )

as you can imagine family and friends have had to adjust to my uniqueness along time ago. they've come to expect the extraordinary from me and I rarely disappoint them. they are either cool with my unconventional life path or they take their leave of me.
11. A curious question. I've read about 'gay for pay' adult actors who star in gay porn, yet they go home to their girlfriends or wives? Would you ever cast a person who considers themselves 'gay for pay' and what are your thoughts on that aspect of the gay adult industry?
this kind of person wouldn't do well in one of our productions. ya can't fake chemistry. and no amount of pay is gonna get an ostensibly straight man to love another man like a gay man does.

Gets me back to the primary purpose of our productions, the romance, allure and seduction, not just bumping parts.
12. Do you ever see yourself walking away from Daddy Oohhh! productions?
oh sure, i picture myself walking away from it all two or three times every day.
13. With as many gay films that are out on the market, does it become difficult coming up with something totally fresh and new that stands out among the pack?
i think the notion of fresh and new resides in the presentation, not the story itself. sexual scenarios, by their very nature are trite. I mean, simply stated, there are a limited amount of things one can do with a finite number of appendages and orifices, right?

what makes a sexual event brilliant, on camera or off, is the passion between the participants. i think it would be possible to present the same story over and over, but with different players and from different perspectives and have the story fresh, new and exciting each and every time.
14. Now comes a funny question. How many erections can one director get from filming an entire adult feature?
that is a funny question. sometimes i'm lucky to get just one from each performer. Erections are sometimes hard to come by, even for the industry veteran. There's a whole lot of stress present when there are cameras and crew just standing around waiting for the action to begin.

This is really hard work (no pun intended). I so admire the men I've worked with. They've been real troopers.
15. You have also created jizz4u.com. What was the motivation in creating another site apart from Daddy Oohhh! Productions? What is this site going to offer us no other site has?
http://www.daddyoohhh.com/ is our professional site. You'll not find any overt depictions of sex there.

http://www.jizz4u.com, on the other hand, is a membership, on line magazine sorta deal with special features and columns and, of course, lots of really swell original content. we like to think of it as Smut For the Thinking Man.

there's an online community developing. One can create a profile, upload photos (Hey, just show us your dick!) you got spooge pics? we're especially gonna want to see those.

members receive a $5.00 discount on all the DVDs in our online store. There are monthly give aways, tee shirts and DVDs, that sort of thing.

And that's just the beginning. JIZZ4U.COM will update its content monthly. And we have lots more surprises in store in months to come.

We'll be adding new galleries featuring upcoming video stars. next month we'll be featuring a new Spanish language column.

how's that for shameless self-promotion?
16. A childhood question. When you were a young boy, was porn director ever in the mix of 'what i want to be when i grow up'?
not even close. i wanted to be a priest. Had someone asked me three years ago if i could imagine myself a porn producer, I would have said, absolutely not.

Well, so much for that.
17. When shooting for your next feature begins, what preparation do you take days before the camera even starts to roll?
we shoot again in mid-march. we have an amazing cast of 9 coming in from all over the us and canada.

producing a marathon weekend shoot like the one we're planning is an enormous undertaking. i start getting things organized two months before the actual shoot date. every little detail needs attention – transportation, food, lodging, cast, crew and location, these are some of the immediate concerns that consume me.
just three more questions. almost done.
18. On your website, you tell us to expect 'helpful, witty and humorous "how to videos" for those wanting to expand their sexual repertoire (anal sex, oral sex, SM, BD, etc)'. When are we going to see this video on the market? And can you give us one tidbit on what the first how to video will 'explain' to us gay folks?
we're planning on filming my sex advice columns. i hope that comes to pass real soon. but, of course, money is always a huge issue. i just know they're gonna be a hoot, though. i mean, just consider some of the titles.

So Ya Wanna Be A World-Class Cocksucker

Liberating The B.O.B. (big old bottom) Within

Guess What, Honey? I'm A Kinky Old Sod!
19. Your company is given the title 'independent' in articles. Is your company still considered a newbie on the block or is it making noticable waves among the other adult companies and their stars?
Thanks to interviews like this we are beginning to find our proper place in the industry. There's no denying that we're doing things quite differently from the rest of the stuff in the marketplace.

Will we continue to grow and perhaps even prosper? Ahhh, the jury is still out on that. However, I am very confident we will succeed
20. What's the most positive feedback you've gotten from one of your customers? What's the most negative?
Positive feedback: I'd like to compliment you on your great work. There is a certain feel I get from the videos (can't explain it) that I don't experience from others. The actors really seem to be genuinely into each other and enjoy what they are doing. I was always a Brett Collins fan, but to see him with Jeff Baron–WOW! Keep up the great work!

negative feedback: Sensual, but senseless. Visual mood-music. The photography is gorgeous, the editing mesmerizing, the original music ravishing, the guys hot, but the whole is loony.
21. One last fun question. I must know. What would your porn star name be if you was to become an adult star?
Willie Choke

Thanks Nate, you're a hell of a guy!
Small World
SeattleWeekly.com
August 11, 2006
Yes, Father
By Steve Wiecking
Richard Wagner was ordained a Catholic priest in 1975 in the Bay Area, and he still has the air about him of someone made for dealing with intimate confessions. He's a burly, bald-headed guy in his 50s with a warm, wide face, a watermelon-slice smile, and the tendency to end statements with a winking, rhetorical "doncha know?" He talks about the gay porno films he's directing like he's just stumbled upon a nifty project for the school science fair that could save the planet—and you believe him.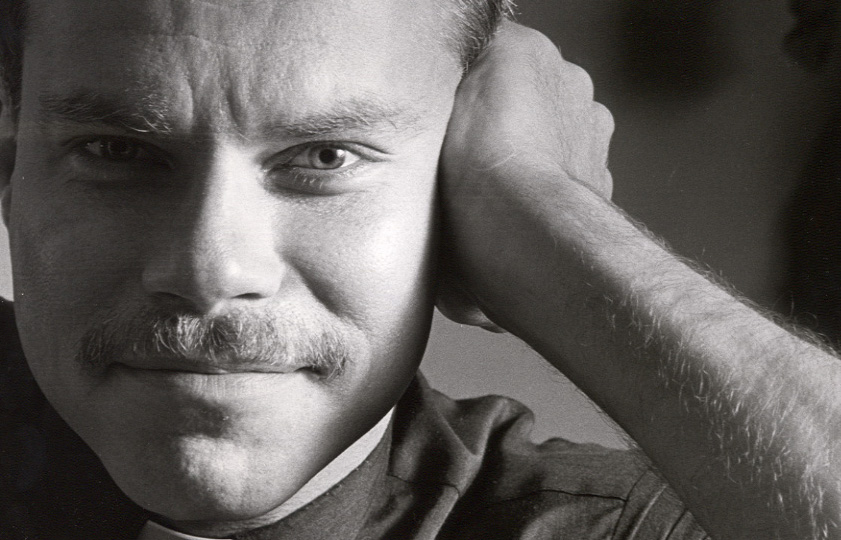 At the moment he's busy trying to explain the considerable change in his life's direction while curtailing the inquisitive nose of his indefatigable, pink-shirted German shorthaired pointer.
"To this day, I'm the only Catholic priest in the world with . . . Ginger!" he breaks off to chastise the dog, who's just discovered something new about my female companion. Wagner apologizes with a twinkle. "She doesn't get to see many women here," he says.
Wagner, the president of Seattle's Daddy Oohhh! Productions for Quality Adult Entertainment, Education, and Enrichment (www.daddyoohhh.com), is, as he started to say, the sole man of the pulpit with a Ph.D. in clinical sexology. His fascination with the vagaries of human sexuality led him to complete the dissertation Gay Catholic Priests: A Study of Cognitive and Affective Dissonance, which effectively ended his service to God in 1981 (though it took the church a good 15 years to officially bar the uncooperative activist).
"Back then there was no such thing as a gay Catholic priest," he says. "I finished [my doctorate] in January, and by February I was being thrown out of my religious community because I had publicly identified myself as gay."
He got over the rejection, obviously, but it still genuinely disappoints him, and he trails off in wistful frustration when it comes up: "I had a teachable moment and a captive audience to do some really good stuff about sexuality and, I mean, just human . . . personhood. . . . "
He sees his move to Seattle and dive into homo porn as a means to fund his dream, the work he's been driving at since the '80s: frank video education that would help terminally ill or post-op patients to view themselves as sexually whole.
It sounds funny—the priest turned pornographer. It is funny, let's face it. But Wagner's devotion to letting it all hang out registers as disarmingly low-key instead of lurid; watching unedited scenes from his forthcoming gay flick, you can hear him behind the camera admonishing his uncertain players with, "You don't have to worry about having a stiffie all the time!"