Daddy Oohhh! Productions is proud to announce the release of VOLUME 1 — The Best Of Jizz4U LIVE! This latest full-length feature is premiering in the Daddy Oohhh Playhouse; Streaming Video Theater. Check It OUT!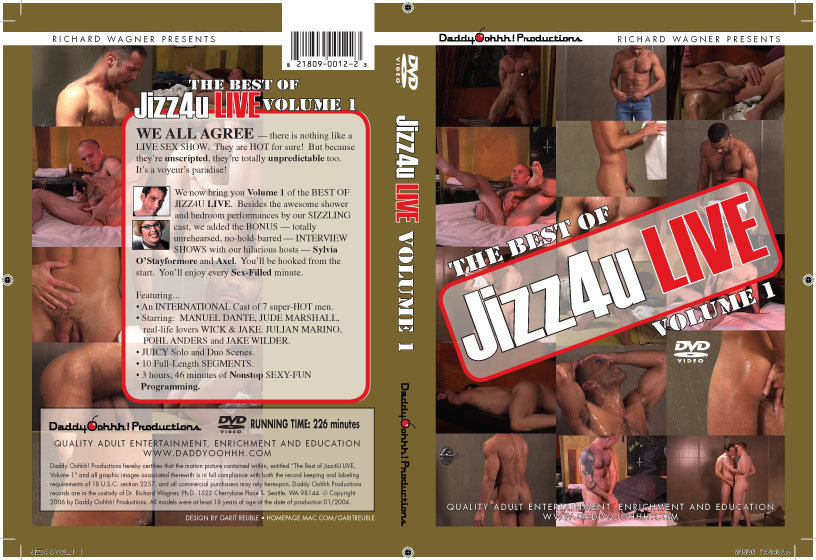 We all agree — there is nothing quite like a LIVE SEX SHOW. They are HOT for sure! But because they're unscripted, they're totally unpredictable too. It's a voyeur's paradise!
We now bring you VOLUME 1 — The Best Of Jizz4U LIVE! Besides the awesome shower and bedroom performances by our SIZZLING cast, we added the BONUS — totally unrehearsed, no-hold-barred — INTERVIEW SHOWS with our hilarious hosts — Sylvia O'Stayformore and Axel. You'll be hooked from the start. You'll enjoy every Sex-Filled minute.
Featuring…
An INTERNATIONAL Cast of 7 super-HOT men.
Starring: MANUEL DANTE, JUDE MARSHALL, real-life lovers WICK & JAKE, JULIAN MARINO, POHL ANDERS and JAKE WILDER.
JUICY Solo and Duo Scenes.
10 Full-Length SEGMENTS.
3 hours, 46 minutes of Nonstop SEXY-FUN Programming.